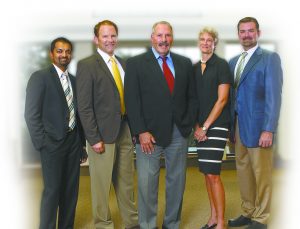 Since 1977, Lake Eye has been dedicated to providing the most advanced eye care services to promote and protect healthy vision.
Lake Eye's accomplished and highly experienced ophthalmologists continually study, train in and perform the most sophisticated surgical and procedural treatments in the industry, from general care to advanced treatment for every eye disease and disorder, including cataracts, glaucoma, macular degeneration, low vision, dry eye, red eye, diabetic retinopathy, refractive errors, amblyopia, sagging eyelids, and the list goes on.
"If it has to do with the eye, we
treat it," says ophthalmologist
Dr. Scott Wehrly. "It ensures the
highest quality vision care."
Lake Eye is the region's vision services pioneer, and the first provider qualified to offer key services like LenSx® laser assisted cataract surgery, the safest and most accurate cataract surgery system ever created, the ORA™ Optiwave refractive analysis system for ultimate precision in astigmatism correction and intraocular lens (IOL) placement, and the groundbreaking Symfony® IOL, the only FDA-approved extended depth-of-focus lens producing continuous vision correction at all distances. Lake Eye was also among the first local practices to offer endoscopic cyclophotocoagulation (ECP) surgery to safely treat both glaucoma and cataracts in the same operation. "There is no local provider that can match our training, experience and comprehensive list of services," says ophthalmologist Dr. Scot Holman.
Lake Eye's highly skilled, Board-certified and fellowship-trained surgeons perform these and other revolutionary procedures at the Santa Fe Surgical Center in The Villages® community. Comprehensive ophthalmologist Shelby Terpstra, DO uses the center to perform cosmetic and reparative blepharoplasty to correct drooping, sagging eyelids and help restore peripheral vision and a refreshed appearance. "Not all practices have surgeons who specialize in eyelid surgery," says Dr. Terpstra, "but we believe it's important to offer treatments for all areas of vision and eye health, not just a few."
Lake Eye also provides painless testing and treatment for environmental allergies with customized drug-free, all-natural immunotherapy allergy drops patients take daily under the tongue. Over time, the body adapts to the allergens and stops reacting to them, without the danger, pain, cost and inconvenience of allergy shots. With four years of daily use, many patients find their allergies abate altogether.
In addition, every Lake Eye office features an on-site Precision Optics department, which offers eye exams from Lake Eye ophthalmologists, dedicated care from licensed opticians, and a vast array of designer-name frames, specialty lenses, contact lenses, sunglasses and accessories. "For most patients, a new or updated prescription is all they need to see clearly and safely," says ophthalmologist Dr. Vinay Gutti.
The doctors and staff are proud to serve residents of The Villages® community at two of its four locations, one in the Sharon L. Morse building and the other in Sunset Plaza.
From general eye care to sight-restoring eye surgeries to fashion eyeglasses and specialty lenses, Lake Eye is your single destination for a lifetime of brilliant vision. If you haven't seen an ophthalmologist in awhile, don't wait. Protect your vision by calling Lake Eye today.
Lake Eye
352-750-2020