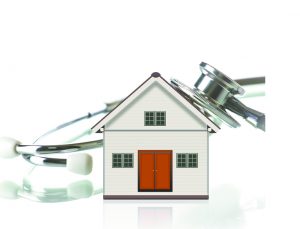 A home inspection is one of the most important steps in the home buying process, but some real estate agents might encourage their customers to skip it to cut closing costs. A good REALTOR®–one who has your best interest in mind—will never advise bypassing a home inspection. Why? Because we don't just care about our bottom line; we care about you. Skipping a home inspection might not only result in costly home repairs—it could severely impact your health. Here are five serious health hazards a home inspection can prevent
1.    Mold-related illness
All kinds of mold love Florida's warm, moist climate, and inadequate moisture control inside a home can quickly lead to an infestation. The damage may even go unseen, as mold can grow easily within walls, ceilings, and air ducts. Various types of mold can produce chemicals called mycotoxins that may cause respiratory irritation, rashes, shortness of breath, headaches, and fatigue in people exposed to them. Small children, the elderly, and those with compromised immune systems may be especially at risk. A home inspection will check for moisture and mold issues, ensuring your new home is mold-free.
2.    Water contamination
Waterborne illness is unthinkable in 21st century America thanks to modern advances in sanitation, but when sewage and septic systems break down or are improperly installed, a serious outbreak can occur. Waterborne pathogens can cause such illnesses as Legionnaire's disease, typhoid, cholera, and dysentery. Home inspectors check to make sure sewage and sanitation systems are functioning properly, keeping your drinking water nice and clean.
3.    Hazardous materials
Some homes, especially older ones, may be built with materials now known to pose health risks to residents. One of the most well known and dangerous of these is asbestos, a toxic mineral that can cause mesothelioma, lung cancer, and respiratory problems. It was widely used in home construction until the late 70s, when the public became aware of its dangers. A home inspector may check an older home for the presence of asbestos, but newer homes are not at usually at risk. However, all homes may be at risk for radon and carbon monoxide, two odorless and invisible gasses that can be deadly in high concentrations. Inspectors usually offer radon and carbon monoxide testing services, and it's wise idea to add them to your inspection package if you can.
4.    Rodents and pests
Most home inspections will look for pests or potential sources for pests. These include rats, mice, roaches, termites, mosquitoes, and a host of other unpleasant Florida bugs. It's not just a matter of keeping icky bugs away, but keeping you healthy. Rats and mice can spread disease, as can the ticks and fleas they carry. Properties that hold a lot of standing water can serve as breeding grounds for mosquitoes, which can infect both humans and livestock with potentially deadly diseases like West Nile and encephalitis. Being aware of pests and pest attractants in your home is the first step to protecting yourself and your property.
5.    Disaster-related injuries
While you might have an impressive stock of food, water, and important hurricane supplies, do you know if your home is as hurricane-ready as you are? Many storm-related injuries aren't caused by the weather itself, but a home's inability to withstand it. Home inspectors in Florida keep an eye out to make sure roofs and support areas are built to stand up to the sustained winds and rain of tropical storms, ensuring you'll be safe and sound when the next hurricane comes your way. They'll also check for the more subtle ways nature might be working against your home, namely settling caused by sinkholes. Most sinkholes in Florida don't spontaneously swallow homes whole, but gradual sinking can compromise several elements of your home's infrastructure, potentially putting you at risk. Getting a home inspection will reveal whether or not sinkholes are a concern for your property.
For more information about how home inspections can protect your health and your property, contact a team member at Showcase Properties of Central Florida! We're dedicated to helping you buy and sell with confidence, and are always here to ensure you get the best real estate advice.
Dawn Trigg
Broker Associate, REALTOR®
Dawn is a GRI REALTOR® and broker associate with Showcase, and a 30-year Ocala resident. She holds bachelor degrees in Health Science from UF and Elementary Education from Saint Leo's University. In New York, as well as Florida, she developed a career as a dental hygienist and transitioned to education in the early 2000s. She has previously taught at Grace Christian School here in Ocala. A wife of 32 years and mother of two, Dawn enjoys being active in her community by holding memberships to several local organizations: she previously held board positions with the Junior League of Ocala and the Pioneer Garden Club, was an executive with Marion County Medical Society Auxilary,  and was a board member of Grace Episcopal School.  Currently, she is a member of the Ocala Marion County Board of Realtors, and attends First United Methodist Church of Ocala.
Dawn's love of real estate stems from the social and human aspects of the profession, and she thoroughly enjoys meeting new people. Continuing her education in real estate is also crucial to her as a professional in the field. She utilizes her growing knowledge and active listening skills to help her customers achieve their goals, and brings her emphasis on personal integrity and honesty to bear on every transaction she makes.
352-895-8557
5780 SW 20th Street, Ocala, FL 34474