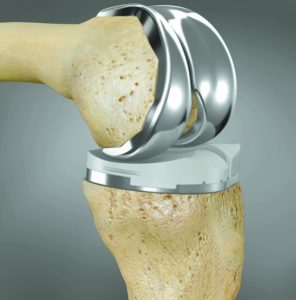 If you were having a custom kitchen designed by an expert builder, they wouldn't just buy a marble countertop off the shelf somewhere; they would have it measured precisely, finely cut, trimmed and polished before installing it in your highly-anticipated new kitchen. If we are so meticulous about our homes, then why would we let a surgeon choose an "off the shelf" knee replacement for our unique, precious, irreplaceable bodies?
Ironically, the typical knee replacement implant is selected from a base range of sizes. The surgeon has to manually try to make the adjustments during the procedure to fit your specific anatomical bones and inner knee space. With this type of implant, there is usually an issue of the implant hanging over the bone or falling short (under-hang), which leaves bone exposed. If your implant isn't aligned properly, you will most likely have major issues with mobility and comfort. This is precisely the reason that 1 in 5 patients are unsatisfied with their knee replacement.
Clinical studies have demonstrated that these compromises on fit can cause residual pain after surgery. A medical device company called, ConforMIS designs partial and total knee implants to fit the patient specifically. Using proven techniques for standard knee replacement, coupled with their exclusive CT scan and 3D modeling technique, called an iFit Image-to-Implant® technology, they create a customized knee to fit your body.
There are also alternatives to having a total knee replaced. For example, many patients are unaware of the fact that they can receive a partial implant. Arthritic damage to one side of the knee is common, so utilizing an implant customized for the medial or lateral deteriorated area is sometimes a better option than a total knee replacement depending on your individual circumstances.
If you are a candidate for a partial knee implant, with the ConforMIS technique, your surgeon would be able to preserve your tendons and ligaments, as well as part of your natural knee bone. This will allow quicker healing, better progress; and preserving bone will provide more natural knee for any future treatments that may be necessary.
Polyethylene is the material that is used in almost all knee implants. Polyethylene allows the joint of the implant mechanisms to move freely. However, the polyethylene sits on a metal platform like a fulcrum, cushioned in between bones. This can cause a great deal of wear and tear on the material of the implant.
ConforMIS manufactures its material differently, and eliminates the typical deterioration through a unique process that makes for less contact stress throughout the knee. Its technology creates a material that is stronger and more durable than polyethylene implants.
To find out more about ConforMIS, or your other orthopedic needs, please call Advanced Orthopedic Institute at (352) 751-2862
Advanced Orthopedic Institute
(352) 751-2862
1400 N US HIGHWAY 441
SHARON MORSE MEDICAL OFFICE BUILDING, SUITE 552
THE VILLAGES, FL  32159-8975