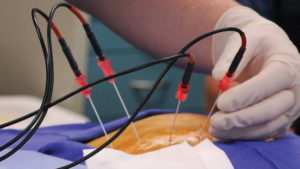 Avoiding surgery is usually at the forefront of most people's minds when dealing with chronic pain. Over 115 million people suffer from various types of chronic pain disorders ranging from fibromyalgia, osteoarthritis, neuropathy, back, hip and neck pain to name a few. Whether trauma or degenerative disease has caused your pain, the consensus is usually the same; people want their pain to go away. But how do you know that the options you've been given are right for you?
Although surgery is critical in certain situations, finding alternative methods to control or alleviate pain is always the first step in pain management. The National Institute of Pain is a state of the art facility that specializes in the comprehensive treatment of acute and chronic pain. They provide the utmost quality care for patients and provide for their pain management needs.
One of the most widespread causes of neck pain and lower back pain is osteoarthritis of the spine. This causes the joints and cartilage to break down leading to pain over the spine with radiation to the arms and legs. Over time, bone spurs may occur, which may lead to pressure on the spinal cord or nerves. This can cause numbness, weakness, pain and tingling to the hands and feet.
Unlike traditional back surgery, which can be intimidating for many patients, a minimally invasive procedure using light sedation and local anesthesia called cervical or lumbar radiofrequency ablation is the answer that many individuals are waiting for to alleviate their neck and back pain.
Neurotransmitters transmit signals from peripheral nerves to the spinal cord and to the brain. This pathway lets us know that something is awry in our bodies. With cervical and lumbar radiofrequency ablation, the nerves that are starting the signaling for this pathway are cauterized with a low-level of localized heat, causing the nerve to stop sending signals to our brain through an interruption in the nerve pathway.
This procedure is entirely safe and effective. It has been used for decades with long-lasting results for people suffering from low back pain. During the procedure, the patient will lie on their stomach, and the neck and spinal area will be treated with a pre-procedural antiseptic. The entire process is performed and monitored under fluoroscopy, which is a moving X-ray that is visible to the surgeon on a digital screen. The nerve endings are then located through a probe that is inserted through a tiny needle into the spinal area. Once the target nerve(s) are located, a small ablation lesion is created through the controlled heating of the probe through medium-frequency alternating current. This will alleviate the pain signals to the brain, allowing the patient to be virtually pain-free. The entire procedure takes approximately 20-30 minutes, and patients can resume normal activities within a short period of time.
Radiofrequency Ablation (RFA) is able to treat other areas in the body as well. It is commonly used for headaches, facial pain, peripheral neuropathies, trigeminal neuralgia, hip and knee pain, as well as for disc denervation, and in some cases, complex regional pain syndrome.
At the National Institute of Pain, they treat each patient individually, using the latest equipment and various innovative procedures to diagnose pain and determine your care needs. The National Institute of Pain's President and Founder, Dr. Sunil Panchal, is a board-certified interventional pain and spine physician.
Dr Panchal has been an academic leader, and previously was Director of the Multidisciplinary Pain Fellowship and Chronic Pain Service at the Johns Hopkins University, and Director, Division of Pain Medicine at Cornell University. He has held leadership responsibilities in many professional societies, including the Board of Directors for the American Academy of Pain Medicine, Coverage Committee for the North American Spine Society, and Committee for Pain Medicine for the American Society of Anesthesiologists. Dr Panchal has authored and co-authored a number of abstracts, journal articles, and book chapters. He has served as an invited editorial reviewer for Clinical Researcher, Anesthesia and Analgesia, Pain, Pain Medicine, and the Clinical Journal of Pain. He previously served as Editor-in-Chief of the International Journal of Pain Medicine and Palliative Care and of Seminars in Pain Medicine. Dr. Panchal also served as the Chair of the National Comprehensive Cancer Network Cancer Pain Panel and has lectured widely at the national and international level. He is actively involved in the development of novel analgesics and spine devices, and in clinical research protocol design, most recently for regenerative medicine and stem cells.
At The National Institute for Pain, their goal is to strive to deliver the highest quality of comprehensive care for those who are suffering from acute and chronic pain. They have many alternatives to help you with your personalized spine and pain treatment needs. Please visit their website at www.nationalinstituteofpain.org or call them at (813) 264-PAIN (7246).
The National Institute for Pain
(813) 264-PAIN (7246)
www.nationalinstituteofpain.org