Florida's strengths include high percentages of hospice care use and quality nursing home beds, and a low prevalence of obesity.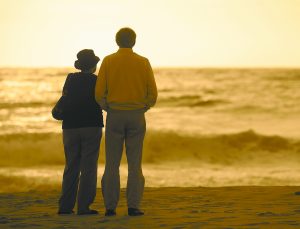 America's seniors are seeing improvements in clinical care but are facing significant economic barriers to better health, according to the key findings from United Health Foundation's fifth annual America's Health Rankings Senior Report. Accompanying the report is new survey data, released in partnership with the Alliance for Aging Research, highlighting risks of health savings shortfalls among current and future seniors and uncertainty about future health care savings needs.
Seniors seeing improvements in key clinical care measures
The report finds continued notable improvements in care quality and outcomes for adults age 65+ since 2013, including:
25 percent reduction in preventable hospitalizations among Medicare beneficiaries
30 percent decrease in hospital deaths among Medicare decedents
Seven percent decrease in hospital readmissions among Medicare beneficiaries
Nine percent reduction in visits to the ICU in the last six months of life among Medicare decedents
New survey data highlight notable health savings shortfalls among current and future seniors
62 percent of retired seniors age 65+ and nearly three out of four non-retired adults age 50 to 64 have less in total retirement savings than what experts recommend saving for health care costs alone.
Current and future seniors with retirement savings of $20,000 or less are more likely to be in poor health and have chronic disease compared to those with higher rates of retirement savings.
A high percentage of current and future seniors are unsure about how much they need to save to cover anticipated – and unexpected – health care costs in retirement
50 percent of retired seniors and 36 percent of non-retired adults age 50-64 don't know or have no opinion of how much money their households will need for both anticipated and unexpected health care costs during retirement.
Minnesota ranks 1st; Mississippi ranks 50th in senior health
Minnesota is the healthiest state for seniors, rising from fourth place last year, while Mississippi drops two spots to become the state with the greatest opportunity for improvement in senior health. Among rankings, the report found:
Utah (2), Hawaii (3), Colorado (4), New Hampshire (5) and Massachusetts (6) round out the healthiest states for seniors.  In addition to Mississippi, Kentucky (49), Oklahoma (48), Louisiana (47), Arkansas (46) and West Virginia (45) have the greatest opportunities to improve seniors' health and wellbeing.
California and South Dakota made the greatest strides to improve their health rankings over the past year.
What improves overall senior health state rankings:  California jumped from 28 to 16 in the rankings, primarily due to decreases in smoking prevalence, physical inactivity and obesity. South Dakota improved its rank from 25 to 15 due to factors like a decrease in preventable hospitalizations, and an increase in excellent or very good health status and health screenings.
Doing this may help save your life
What if there was something that might help you live longer and healthier — and it didn't cost you any extra money? Sounds like a sweet deal, right?  In fact, there is such a thing. It's called preventive care. And most health plans cover it at no additional cost to you when you see a provider in your network.  It's all about keeping well.
Preventive care is designed to help you and your family stay healthy — before any signs of illness. It may also help catch health problems early. Often, that's when they're easier to treat. This includes:
Screening tests. These help detect conditions such as diabetes and certain types of cancer — and give important information about your heart health. Your doctor can tell you what's recommended for you based on your risk factors.
Vaccines. These aren't just for kids. Adults need shots to help prevent illnesses such as flu, tetanus and whooping cough.
Wellness checkups. Seeing your primary care doctor for preventive visits gives you a chance to find out what tests and vaccines you need. It's also an opportunity to discuss steps to help you live healthier, such as quitting tobacco, being more active or losing weight.
100,000 lives are worth a call!
If everyone in the U.S. got the recommended preventive care, more than 100,000 lives could be saved each year, according to the Centers for Disease Control and Prevention.  So don't put it off any longer. Make an appointment to see your primary doctor.
Preparing for Health Care Costs in
Retirement
With health care expenditures expected to exceed $3.5 trillion in 2017 and grow by an average of 5.6 percent each year through 2025, health care affordability is a growing concern for individuals and families. America's Health Rankings and the Alliance for Aging Research explore the issues of financial preparedness for health care costs in retirement in the new brief: Preparing for Health Care Costs in Retirement.  Visit www.americashealthrankings.org for more information.