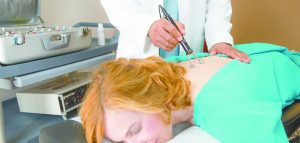 In the early 70's a well-known physicist that helped develop the EKG monitoring system made headlines with a new type of electrical micro-current Therapy, which essentially was an electronic acupuncture technique using micro-current technology.  At the time his procedure was able to help many patients on all levels, including Olympic athletes.  The injured Olympic participants showed promising results and healed quickly.  Many went on to win medals, even when they had major injuries affecting their performance levels.  Today, his therapy is known as AMT, Acuscope Myopulse Therapy.
How Does AMT Work?
Accelerated healing is highly achievable through micro-current technology used to heal a multitude of particular medical issues.  Because of the fact that the cells in our bodies function, and signal to each other through intricate micro-current transmitters, when our cells currents are damaged or dying (due to injury or disease), the electrical current levels in the cells diminish, and the cell will begin to emit toxicity through chemical reactions in our bodies.
When the proper micro-current levels are improved and stabilized, our bodies will start to eliminate pain, inflammation and the progression of damage to injuries, aging, and disease.  Micro-current treatment has been around for many years, but until recently it was reserved for athletes and celebrities for its healing and anti-aging benefits.  Now available to the general public, the process is easy and takes a short period of time to improve our cells electrical functioning. During the procedure, small probes are applied to specific areas of the body, and low-level micro-current is stimulated through and controlled by a technician.
Energy Medical (EMed) has a superior micro-current system for accelerated healing called Acuscope Myopulse Technology (AMT).  AMT is based on physics. Physical science controls chemistry. All the functions of the body can be normalized, as long as the pathology has not progressed too far.
AMT Triggers The Body's Own Natural Healing Mechanisms By:
•    Normalizing inflamed (low-resistance) tissue so that it no longer redirects required (standard) electrical impulses away from needy or damaged (high-resistance or electrically compromised) cells
• Normalizing damaged (high resistance or electrically compromised) cells so that they can hold the normal electrical charge (-70mv) needed to make enough of the chemicals responsible for producing cellular energy (ATP), the fuel required for repair
Energy Medical is a leader in the field of electric medicine and specializes in eliminating pain and accelerated healing.  Using advanced, artificial intelligence and electro-magnetic-pulsed-frequency waveforms, Energy Medical therapists excel at re-normalizing tissue cellular function. It sounds complicated, but it's quite simple, quick and highly efficient.
How AMT Can Help You
• EMed is the leader in the field of electric medicine, and bio-energetic therapies
• Specializing in pain relief, accelerated healing and performance enhancement
• Helps you look better, feel better and perform better
• Provides highly effective, fast and lasting results
• Increase energy levels, blood flow, natural healing, and detoxification
• Utilizes advanced, artificial intelligence, electro-magnetic-pulsed-frequency- waveform technologies to safely restore health without drugs or surgeries
EMed's Wellness Program
Decades ago, microcurrent treatment was used for Hollywood's elite celebrities to help their skin and facial muscles tighten through non-invasive micro-current treatments.  It was reserved only for the stars that could afford its high price and secrecy at the time.
Energy Medical, is a total body therapeutic wellness center. along with all of their high-regarded services is now offers complete wellness packages. Since cell regeneration is proven unmatchable with AMT therapy, EMed's facial, massage and performance enhancement package normalizes the condition of the skin, returning damaged cells to their own natural healthy state. The Bio-Energetic Face lift will stimulate collagen production, blood flow, and lymph drainage on an accumulative basis. Normal healthy skin will naturally optimize oxygen, nutrient absorption, and moisture levels.
If you'd like to look younger, feel better and enhance your performance level, then AMT treatments are available at your convenience through Energy Medical.  They are offering free consultation to design a plan to address the root cause of an issue and not just mask symptoms. Monthly memberships, family and corporate wellness programs are also available.
You really can Look Better, Feel Better and Perform Better without drugs or surgery. Call Energy Medical today and schedule your free consultation. 352-552-1889, or visit energymedical.net
(352) 552-1889
www.EnergyMedical.net
17820 SE 109th Ave., Suite 106B
Summerfield, FL. 34491
In the Spruce Creek Medical Center
Across from the Walmart on Hwy. 441