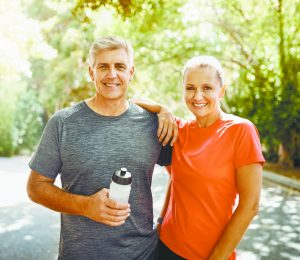 There have been numerous studies on the effects of men's health in regards to a healthy diet and living an active lifestyle.  In the findings, the social aspect of building strong bonds and having a sense of belonging were also critical factors in heart health, behavioral and emotional wellbeing and cognitive functioning.
Living an active lifestyle in Ave Maria is easy.  Ave Maria has great outdoor spaces, and what's key, is the fact that it's not overly developed or as busy as some nearby communities. Settled in Collier County, Ave Maria is one of the newest communities with award-winning amenities.  The amenities include over 100 miles of walking trails, an onsite waterpark, a golf course and club, tennis, bocce and pickleball, a Town Center with exclusive shopping and dining, a Publix grocery market, private schools, a University, resort pools, fitness center and sports fields, a dog park and playgrounds. Whoa…that's a lot of active amenities for one community, but that's what makes Ave Maria different and highly sought after.
The town of Ave Maria offers several styles of homes featuring lake, preserve, and golf course views. With move-in ready homes, models with over 40-floor plans to choose from and prices ranging from the $100s to over $500s, it's clear why people are interested in building a new life in Ave Maria.
Why is it that so many men enjoy living in Ave Maria?  The activity and camaraderie surpass all other communities.  For example, Ave Maria has several men's weekly groups such as Resident Men's Pickup Soccer, Men's ½ Court Basketball, Resident Men's Softball, and Men's Tennis Clinics.  All of these groups meet at parks within Ave Maria including North Park and South Park and the Panther Run Golf Club also has men's day.  Ave Maria is a healthy place for men to live, they can live, and work, and shop and play all within their own detailed private community
For those individuals lucky enough to live here, they will experience the best of both worlds.  State-
of-the-art entertainment is just a short 30-minute drive away to Naples, and they reside in the quiet neighborly hometown, where kids can safely play in the water park, and grown-ups ride their bikes to the coffee shop or walk to fabulous restaurants for dinner.  And if you're looking for some modern flair, Miami is just a quick 2-hour drive away.
If you're longing for something new—a place to really feel at home, Ave Maria, FL might just be the answer you've been looking for.  Ave Maria has won community of the year for the third consecutive year.  What makes it so unique?  The details!
Ave Maria is a 4,000-acre master-planned community.  Developer, Barron Collier Construction, kept in mind the need to develop a town that was for all ages, from growing families to seniors and they did it with great pride, making certain the specifics were perfect and that the homes are of the highest quality.  Women, men, children and the aging population all enjoy the unique customized lifestyle of Ave Maria.  There really is something for everyone.
How Do I Get There?
From I-75 south take Exit 111, and then make a left/east on Immokalee Road (County Road 846).
Proceed 10 miles to Oil Well Road (County Road 858). Turn right on Oil Well Road to Ave Maria.
Ave Maria
239-352-3903