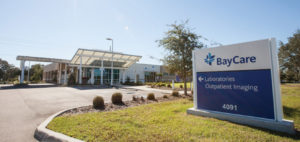 What is BayCare Laboratories?
BayCare Laboratories provides clinical laboratory services to patients and physicians at 15 hospitals and more than 30 patient service centers located throughout Tampa Bay. Analysis ranging from general to specialized testing is performed at our locations.
BayCare Laboratories are accredited by the College of American Pathologists (CAP). This program is based on rigorous standards, which improve patient safety, advance quality of care and meet the highest standards of excellence.
We have a team of experienced clinicians who use state-of-the-art equipment and boasts a strong quality assurance program to help provide accurate test results. BayCare Laboratories is committed to ensure that patients have a seamless and positive experience.
BayCare Laboratories caters to patients' busy schedules. To enhance patient experience, BayCare Laboratories allows visitors to go on-line to hold their place in line through Save Your Spot.
We also offer Lab2Door, bringing lab collection services directly to patients' homes and offices as well as residential facilities in our community.
In addition, dedicated couriers are available 24 hours a day, seven days a week for pick-up and safe transport of specimens from physician offices and clinics.
What type of services does BayCare Laboratories offer?
• Adult Testing
• Pediatric Testing
• Glucose Tolerance Testing
What makes BayCare Laboratories different?
• Provide convenience and access by having multiple locations throughout the Tampa Bay area.
• Walk-ins welcome. No prior appointment needed.
• Friendly staff
• Clean/new facilities
• We have a team of highly trained and experienced professionals that is dedicated to providing accurate, timely and affordable testing.
• BayCare Laboratories accepts most insurances including Medicare, United, Aetna, Cigna, Humana PPO and more.
BayCare Laboratories patient service centers are an excellent place to get lab work done. With our friendly and compassionate staff, BayCare Labs is available to serve all of your lab testing needs in our comfortable and convenient locations.
BayCare Health System continues to improve the health of all we serve through community-owned health care services that set the standard for high-quality, compassionate care.
BayCare Laboratories has 30 local locations to serve you for all of your laboratory needs throughout Tampa Bay and the surrounding areas. Find the BayCare Lab closest to you. You can also get directions, see lab hours, and Save Your Spot™ online.
To find out more, please call (855) 269-3777 or visit BayCareLabs.org
855-269-3777 | BayCareLabs.org