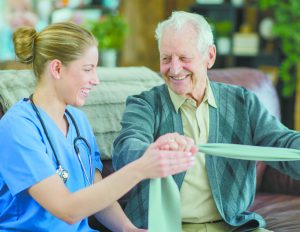 It has been proven that home health care is good medicine and that's why CareTime is committed to providing high quality, consistent and compassionate personal and health care services in the home. Being with family and friends in familiar surroundings has a positive effect on patients recovering from illness or surgery. In fact, studies have proven that patients recuperate more quickly in their home environment.
Below are some of the top reasons why people often choose home health care.
. Home care is delivered at home. When we are not feeling well, most of us ask to be at home. We enjoy the sanctity of our residences and the joy of being with our loved ones. When our loved ones are ill we try to get them home and out of the hospital as soon as possible.
. Home care keeps families together. This is particularly important in times of illness. The ties of responsibility and caring can be severed by hospitalization.
. Home care prevents or postpones institutionalization.
. Home care promotes healing. There is scientific evidence that many patients heal faster at home.
. Home care is safe. Many risks, such as infection, are eliminated or minimized when care is given at home.
. Home care allows for the maximum amount of freedom for the individual. Patients at home remain as engaged with their usual daily activities as their health permits.
. Home care ensures the patient is taken care of while preserving their dignity and independence.
. Home care promotes continuity. The patient's own physician continues to oversee his or her care.
. Home care is personalized and tailored to the needs of each individual. Patients receive one-on-one care and attention.
. Home care is often less expensive than other forms of care.
. Home care is the form of care preferred by the American public.
. Home care can prevent re-hospitalization and decrease the need for urgent care.
A locally owned and operated home health agency. CareTime was founded by Patti Yancey, RN, CMC, GCM.
Patti has been caring for the elderly in Ocala and the surrounding areas for over 25 years. She is an expert in the field of home health and geriatric case management. She is a certified care manager, through the National Academy of Certified Care Managers and Geriatric Care Managers and Member of the Aging Life Care Association. Her life long personal and professional relationships in the local area are an asset to her clients.
CareTime will customize your requests to fit your service needs. All requests are handled in a timely and professional manner. Services can range from just a few hours to 24 hours a day, 7 days a week depending on your needs. Around the Clock Care can be provided in shifts or by a live-in caregiver.
To find out more, please visit their website at caretimeflorida.com, or call (352) 624-0570