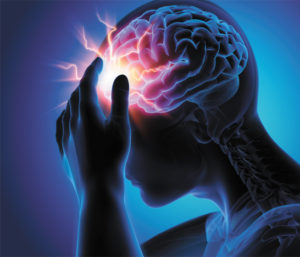 High-contact sports are a hot topic in the news due to the prevalence of concussions and brain injuries, but head trauma can happen at any age, especially the elderly with their risk of falls and degenerative bone density. The skull is meant to protect the brain, but it is sometimes unable to shield the brain from damage with excessive force or trauma. When the brain makes contact with the skull, there is an increased risk of blood vessel tearing and bruising (contusion) that can also affect the nerves within the brain. If the damage is severe, the brain may begin to swell within the skull, limiting blood flow. This is extremely life-threatening and can lead to a stroke due to lack of oxygen and glucose. A concussion can occur from a mild blow to the head, either with or without loss of consciousness. There are also risks of skull fractures, and bone fragments injuring the brain.
According to the American Association of Neurological Surgeons, a hematoma is a blood clot that collects in or around the brain. If active bleeding persists, hematomas can rapidly enlarge. Like brain swelling, the increasing pressure within the rigid confines of the skull (due to an enlarging blood clot) can cause serious neurological problems and can even be life-threatening. Some hematomas are surgical emergencies. Hematomas that are small can sometimes go undetected initially but may cause symptoms and require treatment several days or weeks later.1
Concussion Symptoms:1
• Prolonged headache
• Vision disturbances
• Dizziness
• Nausea or vomiting
• Impaired balance
• Confusion
• Memory loss
• Ringing ears
• Difficulty concentrating
• Sensitivity to light
• Loss of smell or taste
Mild Injuries
Like concussions, mild injuries to the brain may not be observable in routine neurological examinations. Diagnostic tests typically will not show any changes. Therefore, diagnosis is based on the nature of the incident and the presence of specific symptoms, confusion being a primary one.1
3 Symptoms of Confusion are:1
• Inability to maintain a coherent stream of thought
• A disturbance of awareness with heightened distractibility
• Inability to carry out a sequence of goal-directed movements
If you or someone you know has had any trauma to the head, it's critical to be proactive and seek medical care, which will include physical examination and possibly diagnostic imaging to rule out contusions, concussions or more severe brain injuries. Likewise, if it is a severe traumatic event, call 911 immediately.
Quick Care Med Urgent Care
Quick Care Med can treat many injuries or illness from, broken bones, sore throats, and poison ivy rashes to tetanus shots. If your health needs are not emergent like a heart condition or other impending life-saving issues, the benefit of urgent care are numerous. To name a few, the wait time will be much shorter than the emergency room (ER). For the most part, urgent care can see their patients within an hour. The cost is also much less with urgent care than it is with emergency room treatment. Quick Care Med Urgent Care provides you with the proper paperwork to follow up with your primary care physician or specialist, as urgent care takes initiatives to keep the line of communication open to make certain that your treatment is a top priority.
There are numerous reasons people go to urgent care, from sore throats, skin infections, school and sports physicals, vaccinations, colds and flu, sprains, heat exhaustion, animal bites, dehydration, broken bones and much more. Before you go to the ER, consider if you could instead be treated at urgent care because of the numerous benefits to you and your loved ones.
Quick Care Med Walk-In Clinic & Urgent Care is a comprehensive urgent care clinic with multiple specialties to serve you. Quick Care Med has locations in Marion (Dunnellon and Ocala), Citrus (Crystal River, Inverness, Beverly Hills, and Homosassa), Levy (Williston), & Alachua (Newberry) counties that provides immediate walk-in treatment to pediatric and adult patients for illnesses and injuries, wellness exams, and employer health services.
At Quick Care Med, we understand that illness and injuries can happen outside of the normal 9 to 5. That's why we provide Fast, Easy, and Affordable® urgent care with the convenience of extended hours, including weekends and holidays!
From the common cold to a broken bone, Quick Care Med Walk-in and Urgent Care revolves around getting you back to feeling good!
3 Locations in Ocala
3415 E. Silver Springs Blvd, Ocala, FL 34470
(On Silver Springs Blvd. across from Publix)
8119 SW State Rd 200, Ocala, FL 3448
(Just past Walgreens)
6341 N US 441, Ocala, FL 34475
(Across from John Deer)
Quick Care Med
Walk-In Clinic & Urgent Care
844-797-8425
www.quickcaremed.com
References:
1. American Association of Neurological Surgeons, "Concussion—
Prevalence of Head Injury," 2019, Rolling Meadows, Il,
https://www.aans.org/patients/neurosurgical-conditions-and-
treatments/concussion