Presented by Kevin T. Barlow, Aud.D., Doctor of Audiology
Written by: Dana Luzon Coveney, Au.D, FAAA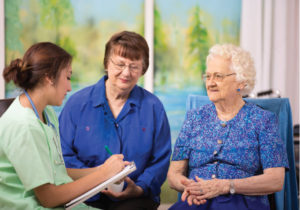 As an audiologist, it is my job not only to diagnose a hearing problem, but to figure out what are the biggest struggles each patient has in their everyday life. Hearing loss is often very gradual and hard for a patient to recognize when it starts. When it comes to a hearing loss, most of the time it is a spouse, friend, or loved one who notices the problems in the first place. During a consultation with a patient, I aim to discover what are their biggest communication requirements and who is the person they struggle to hear the most. Having that person with you during the consultation process is really important. We address not only the patient's hearing concerns, but the companions concern as well.
Most of the time we find that the hearing loss affects the patient's AND the companion's quality of life and I want to make sure to answer everyone's questions during the consultation appointment. I ask questions about the patient's listening lifestyles and main goals for improvements in their everyday situations. As an Audigy Certified Audiologist, I spend a lot of time making sure the patient and companion are heard and that all of the questions and concerns they are thinking about have been answered.
If treatment with hearing devices is recommended during the consultation, realistic expectations are discussed with both the patient and the companion. Often times, I find that patients or loved ones think the hearing devices will cure the hearing problem. In reality, hearing aids have specific limitations when it comes to hearing "normally" and there are specific distance limitations as well. I counsel both the patient and companion that hearing devices work their best when you are communicating face to face at a 3-6 foot distance and they do not pick up speech clearly through walls or from different rooms. I go over so much information during the consultation the companion also acts as a second set of ears to pick up what their loved one may have missed.
Once the patient has been fit with their hearing devices, I use a program called Live Speech Mapping to verify the devices are picking up their companion's speech at a soft and conversational level to ensure an optimal hearing experience.
It takes a team to help you achieve better hearing, having a companion with you during the process is what will help get the best results. If you feel you or a loved one are experiencing hearing difficulty, schedule an appointment today and let us be your home for hearing healthcare!
CALL TODAY to schedule your appointment 863.594.1976
Winter Haven Audiology
510 1st St S | Winter Haven
Ridge Audiology
704 SR 60 E | Lake Wales