By Dr. Kent Kreithen, M.D.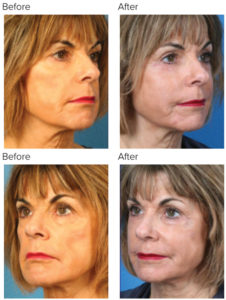 In psychology, there have been numerous studies on the social and psychological effects that appearance has on individuals. If we're feeling insecure, socially withdrawn or having difficulty looking someone in the eyes and maintaining confidence, taking a deeper look at the way we perceive ourselves may prove to have a great deal to do with our mental state.
A study called, Beauty in Mind: The Effects of Physical Attractiveness on Psychological Well-Being and Distress, concluded that being confident, influential and more outgoing, were common attributes associated in individuals that were "aesthetically appealing." Obviously, being attractive isn't the end-all-be-all of happiness but feeling good about the way we look plays a role in our self-assurance.
In today's day and age, we have a better understanding that if we feel confident and look our best, the pleasure principle (dopamine) is intensified within our brains. Our physical appearance has a lot more to do with our mental state then many people are aware. Without getting too scientific, there is something to say about looking at someone that's smiling. This emits a happy sensation to most onlookers; however, when we see a despondent or sorrowful individual, we often feel empathetic towards them.
In light of these scenarios, in 2012, a European study was documented in the Journal of Psychiatric Research. They concluded that depressed individuals that were injected with Botox to reduce facial frowning showed significant reductions in their clinical depression rating than those in the placebo group.
Along with making you look years younger, if you're feeling a little weighed down by your facial muscles, wrinkles, or sagging skin, injectable fillers or Botox might help improve your outlook on life. It seems that this catch 22 is positively influencing confidence levels on the inside and out. So, to refute the saying that, 'Beauty is only skin deep,' we now have a reason to make it a priority to smile more, and if it's right for you, to make a few improvements to your aesthetic appearance.
If you're in need of a little rejuvenation, the simplicity of dermal fillers can plump the skin, give you a more youthful pout, or lift specific areas of the face and neck. Many times, this is referred to as a liquid facelift. Botox and other injectable treatments soften stubborn lines and wrinkles, like crow's feet and the furrows between the brows. Fillers help restore your youthful fullness, shape and stimulate collagen production lost during the aging process. Holcomb – Kreithen Plastic Surgery and MedSpa offers innovative, non-invasive cosmetic procedures and anti-aging programs. And because Holcomb – Kreithen Plastic Surgery and MedSpa is always on the cutting edge, they provide the latest technology and treatment options for laser contouring and resurfacing the face and body.
Holcomb – Kreithen Plastic Surgery and MedSpa Services
• Botox & Dysport
• Dermal Fillers (Juvederm & Voluma)
• Fat Reduction
• Skin Tightening
• Body Contouring
• Laser Hair Removal
• Thermiva (vaginal tightening through non-invasive radio-frequency)
• IPL
• BBL
• Pixel Fractional Resurfacing
• Microneedling
• PRP Facials (Platelet Rich Plasma)
• Body Contouring
• Skin & Spa Treatments
• Facial Plastic Surgery
• Body Plastic Surgery
• Breast Augmentation
• And much more
As a leader in the industry, Holcomb – Kreithen Plastic Surgery and MedSpa always offers the latest technology in skin tightening and fat reduction. By combining their pain-free fat reduction technique that uses radiofrequency heat to help eliminate fat cells, and procedures that tighten loose skin, and promotes healthy collagen production, you will receive remarkable contouring and skin tightening results.
Holcomb – Kreithen Plastic Surgery & Medspa
Dr. J. David Holcomb, MD is a Facial Plastic and Cosmetic Laser Surgery specialist, and Dr. Joshua C. Kreithen, MD is a Plastic (Breast and Body Contouring). Dr. Kriston Kent is a board-certified facial plastic surgeon with more than 25 years of experience in facial plastic surgery, non-surgical facial procedures and injectables. He specializes in facial injectables, laser treatments, and hair restoration. Dr. Kent brings a wealth of knowledge and experience in aesthetics industry to beautiful Carrollwood Florida.
Holcomb – Kreithen Plastic Surgery and MedSpa offers surgical and non-surgical treatments and programs that enhance the lives of both women and men so they can look and feel their best at every age. Their staff is comprised of an extraordinary group of professionals who enjoy empowering individuals to reach their full potential. They are committed to treating patients and each other with kindness, compassion and dignity at all times.
To get your skin glowing, please call them today to schedule your appointment and have a fresh new complexion for the New Year.
One South School Avenue, Suite 800, Sarasota, FL 34237
P: 941.365.8679 sarasota-med.com | sarasota-medspa.com
3642 Madaca Lane, Tampa, FL 33618 | P: 813.609.4000
tampa-med.com