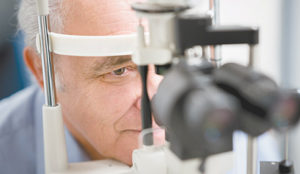 Experiencing blurred vision? Over 20 million Americans have clouding of the natural lens, otherwise known as a cataract. Cataract surgery has advanced significantly over the past 10 years. Ocala Eye's Surgery Center offers the most advanced technology including FEMTO Laser Assisted Cataract Surgery. In most cases, patients return to their normal activities the next day due to the no stitch, no shot, and no patch surgical procedure.
The Cataract
As the gradually aging lens continues to harden, it also begins to develop small cloudy spots. The clouding of the lens is the actual cataract forming. In most cases patients can't tell that the cloudy spots are there, so when the doctor informs you that you have the beginnings of a cataract it may be a bit of a surprise. Over time, the cataract development will be more pronounced and eventually affect your quality of vision. You may notice that your eyeglass prescription changes more frequently. You may also be increasingly bothered by glare of oncoming headlights. These are normal symptoms of progressing cataracts. Your doctor will monitor the cataract and keep you apprised of its status with each eye exam.
Out With the Old and In With the New
Eventually the cataract will interfere with your vision to the point where a surgical solution becomes an option. You and your doctor will make the decision together when it's time to have the cataract removed and a new state of the art lens implant inserted in its place. Cataract surgery represents a true opportunity for your doctor to customize your new HD vision so you can see images at various distances as you did when you were younger – rich in color and clarity. To optimize your vision, Ocala Eye utilizes the most advanced testing available and the most precise lens implants customized for your eyes. Ocala Eye's approach to these procedures is termed Customized Cataract Care.
There are many steps that take place before the cataract procedure to ensure an excellent outcome. Because of the precision needed to choose the optimum lens implant for your eyes, Ocala Eye uses specialized testing that is rarely offered at other ophthalmology practices – it's what puts the "Custom" in our Customized Cataract Care program. With over seven thousand procedures performed at the Ocala Eye Surgery Center each year, Customized Cataract Care exemplifies our commitment to you and your visual health.
Ocala Eye is the largest, most experienced eye care practice in North Central Florida. Ocala Eye was founded in 1971, and more people from Marion and surrounding counties trust their eyes to the ophthalmologists there than any other eye care group. As a patient-centered practice, all of the decisions are made based on the patient's benefit and well-being. Their patients' satisfaction reflects this philosophy. Ocala Eye has a passion for providing the highest level of complete eye care, hearing and aesthetic services.
Since Ocala Eye is the only true comprehensive eye care practice in North Central Florida, patients no longer need to be referred out of town for their specialized eye care problems. Ocala Eye is the only ophthalmology practice in Marion County where you can be sure an eye surgeon is always on call, 24 hours a day, every day of the year.
Ocala Eye is looking forward to opening the newest location, Ocala Eye at Heath Brook, in October. At over 18,000 square feet, this location will offer the most advanced technology to ensure an excellent experience for all patients.
To learn more about our surgeons and their comprehensive surgical training please visit our website at www.ocalaeye.com or call our office to schedule an appointment today at 352-622-5183.
OcalaEye
www.ocalaeye.com
352-622-5183
Magnolia Office 1500 SE Magnolia Ext #106, Ocala
200 West Office 8520 S.W. State Road 200, Ocala
Paddock Park Office 3130 S.W. 32nd Ave., Ocala
Ocala Eye Surgery Center 3330 S.W. 33rd Rd., Ocala
Ocala Eye at The Villages 1950 Laurel Manor Drive,
#250, The Villages