This Fall, your practitioners at Life Care Center of Ocala would like to share a special month with you! National Physical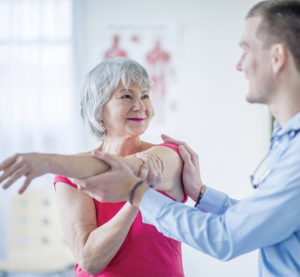 Therapy Month is celebrated each October. The goal of the month long celebration is to raise awareness of the important role that physical therapists and physical therapy assistants play in helping people decrease pain, improve mobility, and engage in healthy lifestyles.
The History of National Physical Therapy Month
Initially, National Physical Therapy Week was celebrated each June starting in 1981. In 1992, the week was moved to October so as to not conflict with the American Physical Therapy Association (APTA) national conference in June. It was then declared that the entire month of October would be designated National Physical Therapy Month. National Physical Therapy Month is a recognized observance on the National Health Observances Calendar.
The Practice of Physical Therapy
Physical therapy is a discipline that concentrates on major muscle joints and muscle groups. It is prescribed to patients with complications related to stroke, neurological disorders, hip and knee replacements, sports injuries, arthritis, sprains and strains, back pain and repetitive motion injuries. By utilizing a wide range of techniques, not limited to but including manual therapy, soft
tissue mobilization techniques, modalities and kinesio-taping, physical therapists have the tools to help patients heal following surgery, illness or injury.
The Benefits of Physical Therapy
Improve Mobility & Motion
Physical therapists are experts in improving mobility and motion. Pain-free movement is crucial to your quality of daily life, your ability to earn a living, your ability to pursue your favorite leisure activities, and so much more.
Avoid Surgery and Prescription Drugs
While surgery and prescription drugs can be the best course of treatment for certain diagnoses, there is increasing evidence demonstrating that conservative treatments like physical therapy can be equally effective (and cheaper) for many conditions.
Participate In Your Recovery
Physical therapists routinely work collaboratively with their patients. Treatment plans can be designed for the patient's individual goals, challenges, and needs. Receiving treatment by a physical therapist is rarely a passive activity, and participating in your own recovery can be empowering. In many cases, patients develop an ongoing relationship with their physical therapist to maintain optimum health and movement
abilities across the lifespan.
With endless possibilities of activities, social gatherings, games, restaurant-like dining, and healthcare, Life Care Center of Ocala is the way most of us would like our aging process to happen. When we think about growing older, socializing, feeling secure, safe and well cared for, we can be at peace knowing that such a place exists and they treat their residents like family.
If you are looking to make the transition into a skilled nursing facility for yourself or a loved one, call Life Care Center of Ocala to book your tour today.
Source: www.apta.org
Life Care Center of Ocala