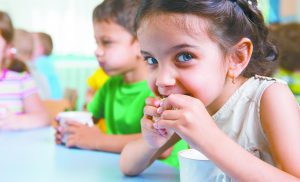 Being overweight can cause serious long-term health issues, but the statistics of childhood obesity are staggering.  More than 100 million children worldwide are considered obese, and in the United States, 1 out of 3 children are diagnosed as clinically overweight.
Over the past few years, there has been nearly a 20% increase in the obesity rate of children and teens.  This is calculated by the BMI (body mass index) of children being above the 85th percentile in comparison to children of the same sex and age in weight.
Why are so many kids having trouble with weight gain?  Two major offenders are not being active enough and eating an unhealthy diet full of sugar, fat and complex carbohydrates.
Many children do not move enough throughout the day; they live sedentary lives, so much so that they can be equally compared to the inactivity level of older adults in their 60's and 70's.  Some children sit in front of the television, computers, or play electronic gaming devices far more
frequently throughout their day than they get exercise.  They need more physical movement to burn calories adequately.
Childhood obesity can lead to the following diseases and disorders:
• High blood pressure
• Diabetes
• Asthma
• Sleep apnea
• Musculoskeletal disorders
• Arthritis
• Heart disease
• Cancer
• Stroke
The CDC (Center for Disease Control) states, "Childhood Obesity and Child Wellbeing
has immediate and long-term impacts on physical, social, and emotional health. For example:
• Children with obesity are at higher risk for having other chronic health conditions and diseases that impact physical health, such as asthma, sleep apnea, bone and joint problems, type 2 diabetes, and risk factors for heart disease.
• Children with obesity are bullied and teased more than their normal weight peers, and are more likely to suffer from social isolation, depression, and lower self-esteem.
• In the long term, childhood obesity also is
associated with having obesity as an adult, which is linked to serious conditions and diseases such as heart disease, type 2 diabetes, metabolic syndrome, and several types of cancer."
Getting your child the proper help now is critical for them to be able to live long-lasting, healthy, productive lives.  There is a time when professional medical assistance is essential.  If your child needs help losing weight and building their confidence, Lifestyle Solutions can help.  They have trusted reliable expertise in evaluating the medical needs and concerns of the child, as well as preparing a diet; supplement and exercise plan for their specific requirements.
At Lifestyle Solutions MedSpa, their philosophy is that successful weight management is the result of simple changes, healthy lifestyle choices and knowledgeable support. By utilizing a medically based multi-disciplinary approach, they have developed a comprehensive program using state-of-the-art techniques combined with tried-and-true weight loss methods to help you achieve  your goals and maintain them. Their skilled team of physicians and lifestyle coaches is led by the highly experienced bariatric physician, Michael Holloway, M.D., along with Executive Director, Shannon Holloway, both of whom are dedicated to providing highly personalized care.  The program offers weekly consultations with a
physician and certified Lifestyle Coaches as well as customized food and exercise plans individualized to meet the needs of the individual.  Minor children will need to be accompanied by a parent or legal guardian on the initial visits and possibly throughout the program in order to achieve ultimate success.  Additionally, Lifestyle Solutions MedSpa offers aesthetic enhancement services including facials, Botox and Restylane injections, and other face and body contouring, anti-aging treatments to help you look and feel your best.
For more information, or to schedule a consultation, call Lifestyle Solutions MedSpa at 352-368-2148 today! The only thing you've got to lose is stubborn fat!
352-368-2148
LSMedSpa.com