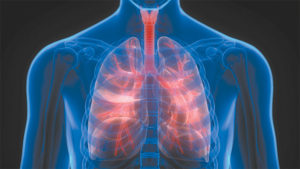 Nearly 24 Million Americans have COPD. Most of them are over the age of 40 and have a history of smoking, or being subjected to respiratory irritants such as chemicals and pollutants.
COPD is a disease that is encompassed by chronic bronchitis, emphysema, and asthma, causing shortness of breath, productive coughing and inflammation of the airways. It is a progressive lung disease with no cure. Most patients are put on steroids (oral and inhaled), bronchodilators and antibiotics.
Individuals with COPD often have incidents of fluid build-up, which can make it difficult for them to breath. They frequently feel as if they are drowning and call 911 often due to this terrifying sensation. This is why it's important to speak to your physician about your COPD treatment and the best at home care techniques to keep you safe and comfortable.
Depending on the stage of the disease, some patients might need to consider home health care or private duty nursing. When under home health care, their team of nurses and medical director can prevent these readmissions to the hospital by several means. The medical team can prescribe medications to block fluid build-up, have a daily vital reading monitored by a home health program, and have specialists help with understanding nutrition, and how to keep calm and learn to breathe more functionally through the episodes. Your physician is still in charge of your medical care, and all reports from the home health team are reported to your primary care doctor.
Having a disorder like COPD is challenging with continual progressive changes and side effects. Talking to your physician about any fluctuations in your health or symptoms is critical.
COPD Symptoms
• Coughing
• Producing phlegm
• Wheezing
• Shortness of breath with normal activity
• Blue tinge to fingernails
• Fatigue
COPD Treatment
• Bronchodilators
• Steroids
• Pulmonary rehabilitation
• Oxygen therapy
• Exercise
• Breathing exercises
• Diet
• Smoking cessation
Many former and current smokers are diagnosed with COPD. November is National Smoking Cessation Month.
Realistic advice to help you quit smoking
• Get rid of all tobacco & lighters
• Plan ahead. Talk to your doctor now about smoking cessation programs, treatment options and medications.
• Let your family and friends know that you're quitting
• Find a new hobby to stay busy
• Avoid the same old routine that allowed you the convenience of smoking
• Keep track of the money you save, write it down everyday and make a tally
• At the end of each week that you continue to not smoke, treat yourself to something nice.
• Don't give up! It's not easy, but it's worth it to quit.
By quitting smoking you can alleviate additional damage to your lungs and allow them to heal, reduce your risk of coronary artery disease, stroke and cardiovascular disease.
Statistics According to the U.S. Department of Health and Human Services
• Within 20 minutes of quitting, your heart rate will decrease
• Within 12 hours of quitting, the carbon monoxide levels in your blood will decrease to normal
• Within 3 months of quitting, your risk of a heart attack decreases and your lungs will begin to work better
• After 1 year, your added risk of coronary artery
disease is half that of someone who smokes
• After 5 years, your risk of stroke is the same as
that of a nonsmoker
• After 10 years, your lung cancer death rate is
about half that of someone who smokes
• After 15 years, your risk of coronary artery
disease is the same as that of a nonsmoker
If you have a persistent cough or are experiencing unusual respiratory symptoms, please make an appointment with your physician now. It's better to be proactive than reactive when it comes to your health. If you let symptoms linger, that's when they turn into progressive, advanced diseases.
Rivers Family Medicine continues to provide their patients with the highest quality of care; they are continually looking for innovative methods of working together with their patients to ensure that they are not only aware of but also involved in the management and improvement of their patient's health.
Rivers Family Medicine welcomes Dr. Erin Dariano. Dr. Dariano has been practicing Family Medicine in Lima Ohio at Lima Memorial Hospital for the past seven years. Dr. Dariano, D.O, Completed her undergraduate degree at Bowling Green State University, and her medical degree at Ohio University College of Osteopathic Medicine. She is a board certified D.O., Doctor of Osteopathic Medicine. Dr. Dariano is committed to providing thorough, compassionate, mindful care for her patients.
To schedule an appointment with Rivers Family Medicine, please call (352) 205-4302.
Dr. Dariano, D.O.
352-205-4302
www.riversfamilymedicine.com