By Tabatha T. McCallum, Au.D.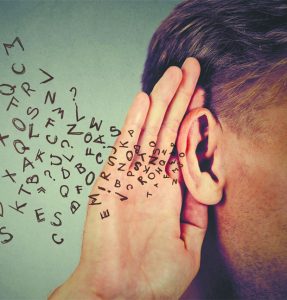 Communication is vital for healthy relationships.  People with hearing aids, cochlear implants, or untreated hearing loss may find understanding speech to be difficult, especially in challenging listening environments.  When communication breakdowns occur, individuals may experience a range of emotional and social consequences including: frustration, anger, embarrassment, depression, isolation, and withdrawal. In addition to using up-to-date technology and other recommended treatment options, an individual with hearing loss must use communication strategies.  Communication strategies, when used by everyone, can prevent and/or repair communication breakdowns and help maintain meaningful connections with others.
For the person with hearing impairment, adapting or learning an assertive communication style is key and begins with admitting a hearing problem exists and identifying what communication difficulties are occurring.  Passive communicators with hearing loss tend to withdraw from conversations or simply pretend they understand.  On the other hand, aggressive communicators with hearing loss will dominate the conversation to avoid not understanding what the other person says, or they may blame the speaker for the communication breakdown.  An assertive communicator will take responsibility for their hearing loss and suggest ways their family and friends can help them understand, which ultimately improves communication for both parties.
The listener should WATCH:
• W – watch the speaker's mouth
• A – ask specific questions
• T – talk about your hearing loss/tell them what you need
• C – change the situation
• H – helpful gestures
Many individuals with hearing loss wouldn't call themselves a "lip reader", but we all get cues from facial expressions and movements that help us to tell the difference between certain consonants and in turn, help us understand.  When asking for clarification, instead of asking "what?" or "huh?" or "eh?" , here are some specific questions to consider: 1)  Could you say that a bit more slowly? 2)  I didn't understand.  It helps if I can see your lips. 3)  Please speak a little bit louder.  4)  Please face me when you're speaking.  5)  I didn't get the last part of what you said.  6) I heard _____ but I missed ____.  Whenever possible, eliminate the background noise and move closer to the speaker.
CARE must be taken when speaking with an individual with hearing loss
• C – clear speech
• A – attention of the listener must be obtained first
• R – rephrase when the message is misunderstood
• E – expectations must be reasonable
Speak clearly and slowly but don't shout.  Always face the person with hearing loss and get their attention before speaking.  Try to rephrase, simplify or use a different word if they cannot understand your meaning.  Do not attempt to speak to the individual from a distance and eliminate background noise whenever possible.  Realistic expectations and patience are most helpful when a communication breakdown occurs.
Many times hearing loss is an invisible impairment.  It is up to the individual with hearing loss to become assertive and tell their communication partners what is needed in order to prevent or repair a communication breakdown.  It's up to the communication partner to be empathetic, consistent, and patient.
At Professional Speech and Hearing Specialists, we know how important hearing is to your life and relationships.  That's why our Audiologists are much more than just experts in the latest hearing technology.  We take the time to get to know you and your specific hearing challenges so that we can create a better hearing plan customized to your needs.
• Credentialed, experienced audiologists who stay up-to-date with the latest in hearing care research
• Recommendations that put our patients' interests first
• Access to the latest hearing technology—not "new" technology that was new three years ago
• A comprehensive, collaborative approach to helping you hear better
• Follow-up adjustments and hearing re-training programs that are included as an integral part of your investment in better hearing
Anyone can simply sell you a hearing aid.  Professional Speech and Hearing Specialists offers the expertise, professional service, and continuing support that it takes to truly experience success with better hearing.  We want to empower our patient's to take full advantage of today's highly sophisticated, programmable, and Bluetooth enabled hearing devices. To find out more, please contact Professional Speech and Hearing at 352-351-3977.
Tabatha T. McCallum, Au.D.
Doctor of Audiology
Dr. McCallum graduated cum laude with a Bachelor of Arts degree in Communication Sciences and Disorders from the University of Florida and went on to earn a Doctorate of Audiology from the University of South Florida. She joined Professional Speech and Hearing Specialists in August of 2010. She specializes in hearing diagnostic testing, hearing aid programming, tinnitus masking device programming, and aural rehabilitation. Dr. McCallum is licensed to practice in the state of Florida. Her passion for audiology stems from wanting to improve the quality of life of others by breaking down communication barriers.