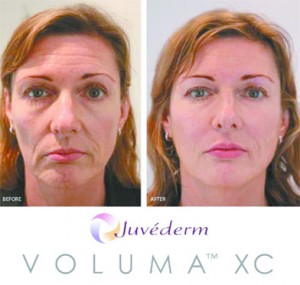 Fillers and injectables are designed to enhance your facial features by lessening the appearance of wrinkles with a subtle, youthful lift—no surgery required. Here's a look at different types and the results you can expect with each.
When it comes to facial features, Father Time is not always kind. Each passing year brings another wrinkle or two, and crow's feet never go down in size. Our cheeks hollow, our foreheads crease; it's simply an unavoidable fact of life.
Or, is it?
"While we can't reverse signs of aging, we can diminish wrinkles, smoker's lines and the like with the help of facial fillers and injectables," says Stacia H. Goldey, MD, FACS, of Mid Florida Eye Center.
And Dr. Goldey should know: she's performed thousands of successful cosmetic surgeries and procedures since she first began practicing in Lake County more than 20 years ago. In fact, she holds the distinction as the county's first oculoplastic surgeon. (An oculoplastic plastic surgeon completes plastic surgery training in addition to rigorous ophthalmologist schooling.)
For those interested restoring some of their youthful appearance, Dr. Goldey recommends getting familiar with the different types of available treatments. "It's important to know which filler or injectable will achieve the best possible outcome for you," she explains.
Here, Dr. Goldey discusses Juvéderm® fillers and Botox®, as well as the results you can expect with each.
Defy lines and gravity with the JUVEDERM® family of fillers
Fillers are made of hyaluronic acid, a polysaccharide that occurs naturally in our skin to maintain its hydration and structure. As we age, our hyaluronic acid levels decrease, causing our skin to sag and even fold. "Fillers can help replenish the skin and smooth out wrinkles and facial folds," Dr. Goldey says. "Results are typically instant and, best of all, natural."
Give a youthful lift to your profile with VOLUMA™ XC
Voluma™ XC is an injectable hyaluronic acid gel for patients over the age of 21 that instantly adds volume to the cheek area—the first and only FDA-approved filler to do so. "Patients whose cheeks appear hollowed due to age can often benefit from Voluma," Dr. Goldey says. "When injected into the patient's skin it provides a subtle lift, helping to restore facial contours." The results—a more youthful profile—typically last up to two years.
Smooth away facial wrinkles and folds with JUVÉDERM® XC
Juvéderm® XC is an injectable hyaluronic acid gel that helps to smooth out moderate to severe folds and creases (also known as "parentheses") around the nose and mouth. Juvéderm® XC is injected directly into the folds of a patient's skin, which, as Dr. Goldey explains, adds volume to the tissue, resulting in a shapelier, more youthful visage. "Generally speaking, results are visible immediately after the first injection and tend to last up to one year," she says.
Soften the appearance of crow's feet and forehead lines with BOTOX®
Botox® is a natural, purified protein that's injected directly into facial muscles between the eyebrows and around the eyes. As the first physician in Central Florida designated by the manufacturer of Botox® to provide training to other physicians on Botox® techniques, Dr. Goldey is very familiar with the benefits of this treatment. In addition to cosmetic enhancements, Dr. Goldey and her Mid Florida Eye Center team use Botox® to mitigate contractions and spasms of eyelid muscles.
"Botox is beneficial because it causes facial muscles to relax, which naturally smoothes out age-related lines and wrinkles," Dr. Goldey explains, adding that most patients notice results after a few days (results usually peak within three to four weeks). Dr. Goldey also notes that while the cost of Botox® is substantially lower than surgery, treatments are not permanent and may need to be repeated after three to six months.
Expect a comfortable, quick procedure
Both fillers and injectables involve a relatively quick procedure with little to no patient discomfort. In fact, most treatments do not even require anesthesia. Dr. Goldey and members of her team administer fillers and injectables in the office at Mid Florida Eye Center. "We try to make these treatments convenient for our patients, too," Dr. Goldey says. "Plus, since fillers and injectables are non-surgical, most patients are able to return to their normal activities immediately after leaving our office."
Find out which filler or injectable is right for you
Each skin type and condition has unique characteristics and challenges, which is why Dr. Goldey stresses the importance of choosing the right cosmetic option. At Mid Florida Eye Center, Dr. Goldey is available to discuss the treatment—or combination of treatments—that will result in the best possible outcome for you. After all, it's not only about giving your facial features a lift; it's about lifting your spirits, too.
To schedule your Cosmetic Consultation, please call 888.820.7878 or 352.735.2020. Find out more information online at MidFloridaEye.com.
Call today for this special introductory offer*
Purchase two or more syringes of Voluma™ XC and receive $100 off
your total purchase. Expires 10/31/2014