By Michelle VanOstran –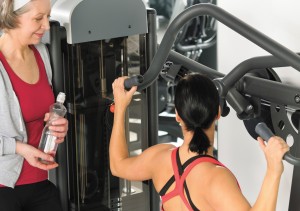 Since I work in the healthcare field, I have done considerable research on the newest fitness movement….CrossFit training.  I knew that the results from CrossFit seemed incredible but I was intimidated by the pictures and stereotypes of these elite athletes that looked like they stepped right off the cover of a fitness magazine.  Over the last few months, I had been to many gyms and tried them out with the free one-day pass.    I always left the other gyms very discouraged because it always seemed like they were concerned about one thing…signing a membership contract.  When I walked into CrossFit Pinnacle, I uncovered something that was incredibly surprising.
CrossFit Pinnacle Is Different
Having scanned the class schedule on-line, I finally got the courage to walk into Crossfit Pinnacle.  It was a Monday morning and I was determined not to be intimidated by athletes that went there.  Wallet in hand, I was greeted by a very friendly coach named "Ted".  He was interested in my personal fitness goals and making sure that CrossFit was the right fit for me. Even more shocking was that I could have two full weeks at no charge in fundamentals class to determine this.  The one month fundamentals class was taught by one of their many certified trainers who would teach me all the basic exercises and how to do them correctly.  Since I was new to Crossfit and had not worked out on a regular basis in 10 years, this was incredible.  What also makes CrossFit Pinnacle different than other CrossFit places is that they have several coaches who are also personal trainer and who are always on-site and available to assist you.  The small class size in fundamental training insured that I would be taught the Crossfit principles and the goals of each exercise one on one with a trainer.
One on One Instruction
When I started my first fundamentals class, I couldn't believe how friendly and supportive everyone was!  Why had I been intimidated??  In fundamentals class, you get one-on-one personal training but in a small group setting. In this way, the whole group could ultimately share the cost of our personal trainer. I knew that hiring a personal trainer was the best way to get results because I had done it in the past.  But right now, the cost of hiring a personal trainer was definitely not in my budget.  The goal is to learn the exercises safely to prevent injury and strengthen your core.  Our group had 5 people in it with all ages and fitness levels.  Although I was the one in the class that was the most out of shape, the others in my class became my cheerleaders and encouraged me every step of the way.  After a couple classes, I looked forward to seeing my new friends.  And after only two weeks, I couldn't believe the results that I was noticing in my own body.
Injuries Don't Exclude You
Having struggled with Fibromyalgia, Arthritis, Back and Neck Pain for years, I was worried that I would never be able to exercise regularly again.  Recently when I took an exercise class at other gyms, I hurt for days.  Amazingly, once I started the CrossFit fundamentals class, my injuries didn't seem to bother me.  I felt stronger, happier and more confident.  I regained the hope that I could get in shape despite my injuries.
The CrossFit Pinnacle Mantra:
Fitness allows you to live your best.
CrossFit Pinnacle believes physical fitness is more than how it is technically defined rather fitness is a state of mind, a way of being. It shows up in the way you walk, talk, eat, sleep, work, play, dress and relax. Physical Fitness embodies of the characteristics of honor, courage, confidence, discipline, integrity, responsibility, dedication, and joy. It is has a healing effect in reducing the immediate and cumulative effects of stress and anxiety.
CrossFit Pinnacle has found that the fitter a person is, the more he/she has a clearer and optimistic view of life and is physically able to do the things that bring joy and fun into their life. Physical fitness affects everything in your life, from feeling strong, confident and energetic throughout your normal work day, to running around with your kids, playing sports, or even traveling to remote corners of the earth. Ultimately, CrossFit Pinnacle believes that being physically fit is inspiring; it makes you feel good, it enriches your life, and adds both years to your life, and life to your years!
About CrossFit Pinnacle
CrossFit Pinnacle has multiple locations in Ocala, Florida and is considered  a unique School of Elite Fitness. At all of our locations, we teach basic to advanced level group fitness classes in a variety of functional workouts. Some of our core exercises include:
•    Kettlebell Training
•    Running
•    Medicine Ball Exercises
•    Box Jumping
•    Olympic Weightlifting
•    Plyometrics
•    Rowing
•    Gymnastics
•    Power-lifting
•    Dumbbell Training
•    Jumping Ropes
Our student members are immensely diverse in their backgrounds, practices, and lives; and include students, stay-at-home moms, business executives, athletes of all ages, martial artists, and many more.
CrossFit is our primary training method and it focuses our students on optimizing physical competence in each of the ten recognized fitness domains; Cardiovascular and Respiratory Endurance, Stamina, Strength, Flexibility, Power, Speed, Coordination, Agility, Balance, and Accuracy. The catalyst provided is always varied and the results are extraordinary. The character of our training facility is one of support and camaraderie, and we are open to anyone willing to put in the work.
Give Cross Fit Pinnacle a call today and ask when their next fundamental class will be.  There is no charge to participate in these classes, so you have nothing to lose.  Make 2014 the best year it can be, you won't regret it.
(352) 509-4987
www.crosssfitpinnacle.com