By Nisha Sinha, MD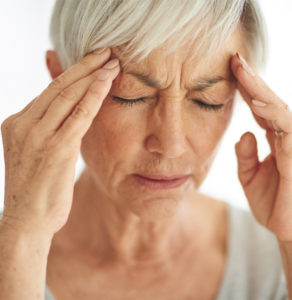 If you suffer from migraines, you're not alone. Nine out of ten adults in the U.S. suffer from severe headaches, and women are three times more likely than men to develop migraines. Painful headaches can affect individuals occasionally, frequently, or daily. While some are sharp and piercing, others may be dull and throbbing, but most migraines cause debilitating pain and nausea. What do you do when you suffer from a pounding headache? Usually, nonsteroidal anti-inflammatory drugs (commonly referred to as NSAIDs) like ibuprofen are ineffective at reducing pain, and they certainly don't address nausea and vomiting that are so commonly associated with migraines. If you have four or more migraine headaches per month, you are at risk for developing chronic migraines.
Several conditions and dietary influences exacerbate migraines. These include the following:
• Allergies
• Bright lights
• Bulged discs
• Cheese
• Chocolate
• Preservatives
• Hormonal imbalance
• Hypermobility syndrome
(joint disorder, usually genetic)
• Neck arthritis
• Red Wine
• Sleep deprivation
• Stress
• Strong odors
• Tight neck and shoulder muscles
• Weather conditions (barometric pressure)
Some individuals have prodrome, defined as an early sign or symptom that often indicates the onset of a disease before more diagnostically specific signs and symptoms develop. Prodrome can precede migraine episodes. Some of the symptoms of prodrome are fatigue, mood swings, food cravings and environmental stimuli to lighting and odors.
If you suffer from frequent headaches, it's best to avoid the triggers that cause your specific migraines. When headaches do not respond to over the counter pain medications, Neurologists typically prescribe medications like triptans that work to disrupt the migraine's initial onset. Stronger narcotics may be prescribed depending on the patient's specific needs and overall condition. However, when patients have severe vomiting or nausea, it can be challenging to keep pills and capsules down, so injectables or inhalation medications are available in these cases.
Dr. Sinha focuses on the specific conditions of each patient. If hormonal imbalance or sleep disorders are prompting headaches, she treats those particular conditions. Dr. Sinha also prescribes all natural supplementation for some of her patients who require or want a more holistic approach. In many severe cases, supplementation or prescription medications are not enough.
"This is an exciting time in headache management," says Dr. Sinha. "There are new migraine treatments on the market which were just approved by the FDA. These new drugs are in a group called calcitonin gene related peptides (CGRP) and often work faster and safer than medications previously prescribed for migraines." The CGRP drugs are self-administered by the patient in the comfort of their own home. "I have started many patients on this class of therapy with great results."
Nisha Sinha, MD
Nisha Sinha, MD strives to establish lasting relationships with her patients through comprehensive and compassionate care for those with neurologic disorders. Her extensive medical training has emphasized that the needs of the patient always come first. Dr. Sinha recognizes the importance of strong collaborative partnerships with referring providers and welcomes the opportunity to work cooperatively in addressing each patient's unique needs while developing comprehensive plans for their continued care.
Dr. Sinha specializes in Electromyography (EMG), nerve conduction studies, Electroencephalogram (EEG), as well as cognitive and memory evaluations.
Neurological Conditions Dr. Sinha Treats:
• Neurodegenerative disorders: Dementia,
Alzheimer's disease, memory loss
• Parkinson's disease
• Strokes, TIA
• Seizures/Epilepsy
• Neuropathy and neuropathic pain
• Neuromuscular disorders
• Multiple sclerosis
• Myasthenia Gravis
• Headaches and migraines
• Coordination and balance problems
• Restless Leg Syndrome
• Traumatic brain injury
• Vertigo/dizziness
• Visual disturbances
Nisha Sinha, MD
Dr. Sinha is currently a member of the medical staff at The Villages® Regional Hospital. She is board-
certified in neurology by the American Board of Psychiatry and Neurology and was fellowship-trained in clinical neurophysiology. Additionally, Dr. Sinha is a member of the American Academy of Neurology and the American Association of Neuromuscular and Electrodiagnostic Medicine.
If you or someone you know has migraine headaches or other neurological conditions, please call Dr. Sinha's office at (352) 751-8790.
Central Florida Health Medical Group – Neurology 1400 North U.S. Highway 441
Sharon Morse Building, Suite 524
The Villages, FL 32159
352.751.8790
*Accepting Medicare and most private insurances