Well, Bruce Hancock, a Certified Pedorthist, would like to explain how he can help, with little to no out of pocket cost to you…
By Bruce Hancock, Certified Pedorthist –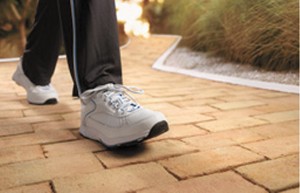 In 1995, Congress amended Medicare statutes to provide reimbursement for shoes and orthotics for people who suffer from diabetes under Medicare Part B. The Centers for Disease Control has estimated that 86,000 lower limb amputations due to diabetes occur annually and experts agree that most are preventable with good fitting footwear and custom orthotics.
How Do I Qualify?
Any physician who manages your diabetes is called a certifying physician. The certifying physician must state the following:
A. You have diabetes mellitus.
(Type one or type two)
B. You exhibit one or more of the below conditions:
1. Poor Circulation
2.    Foot Deformity
3.    Peripheral Neuropathy with Evidence of  Callus Formation
4.    History of Pre-Ulcerative Callus
5.    History of Previous Foot Ulceration
6.    History of Partial or Complete Amputation of the Foot
What is Reimbursable?
Within a given calendar year (January-December), a qualifying patient can receive from Medicare/2ndary insurance one pair of shoes and three pairs of orthotics.
About Us
Advanced Solutions was founded in 2006 by two partners with over 30 years of combined healthcare experience. One, a healthcare executive, brings a wealth of knowledge in healthcare operations, strategic management, and mergers and acquisitions. The other partner practiced medicine and treated thousands of patients who suffer from diabetes. Although their backgrounds are very different, their philosophy in treating this disease is the same. TREAT THE PATIENT FIRST AND THE PERFOMANCE OF THE COMPANY WILL FOLLOW.
Our product offering is very unique. We want you to use diabetic supplies that are safe, increase patient compliance, decrease the risk of hospitalizations, decrease the risk of mortality, and ultimately increase your quality of life.
ALL AT Little or No Cost To Patient:
• In Home Custom Fittings and Delivery
• Sensus Device which Reduces Pain Caused by Neuropathy
• Urological Catheters
• Pharmacy Services
• Erectile Dysfunction
Bruce Hancock
"I basically help people with diabetes to obtain high quality footwear along with custom orthotics, all with no cost to the patient. Many diabetics either aren't aware of the program, or they think the shoes are the big black Herman Munster type shoes (smile) of long ago, or they don't have the time, energy, or transportation to go shop for them. Sometimes, they just don't believe they can get them for "free"…(they are paid for by their insurance companies, so they really aren't free)… I try to solve each of those problems:
#1. The shoes are anything but ugly. A person may choose dress shoes, casual shoes, or tennis shoes. Unless I am getting them footwear to help with a complication, such as severe edema, the footwear looks like anything you'd but at a fine shoe store.
#2. They don't need time, energy or transportation. After the person has been "qualified", meaning no cost, I make an appointment and go to their home to do the fitting. When the shoes arrive, I make another appointment and deliver them to the patient, making sure we have a good fit.
The bottom line is this: I want to do all I can to ensure that a diabetic patient has every advantage to have better stability and balance, and protect their feet. The #1 cause of amputations in people over 50 years of age is because of diabetes. Studies have proven that a good, quality pair of shoes with the custom orthotics will greatly reduce the chances of an amputation."
Call right away to get approved! 352-445-5575 …You won't qualify if you don't call!
bhancock@advanceddiabeticsolutions.net
Office: 352-445-5575
Cell: 609-617-5723