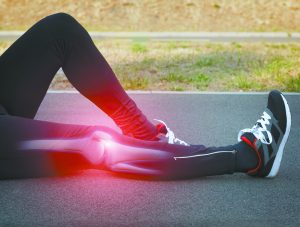 According to the Centers for Disease Control and Prevention, 23% of American adults, or roughly 53 million people, suffer from arthritis, a disease encompassing more than 100 different types, all of which cause inflammation in one or more joints. Over 30 million adults suffer from the most common type, osteoarthritis, which is a degenerative disease caused by injury, overuse and aging. Osteoarthritis sufferers often have little to no cartilage left to cushion bones as they move against one another, and the resulting wear can cause pain and inflammation from mild to so severe it is debilitating. Other types such a lupus and rheumatoid arthritis are autoimmune diseases and can occur in younger people. Arthritis in any of its forms can cause joint pain, stiffness, swelling, locking, tenderness and/or weakness.
The Board Certified radiologists of Radiology Associates of Ocala (RAO) have many years of experience evaluating arthritis and working with referring doctors to determine what type of arthritis a patient has, and what steps should be taken to relieve pain and prevent or delay disability.
The doctors of RAO utilize the most advanced diagnostic technologies available to uncover the type, cause and exact location of arthritis within a joint or joints using x-ray, computed tomography (CT) and magnetic resonance imaging, or MRI, including our upgraded Oasis 1.2T Open MRI at TimberRidge. MRI technology uses a magnetic field and radio frequencies to send data to a computer, where it is compiled to produce highly detailed images of the joint(s) being analyzed. In addition to capturing information about bones, MRI can also provide defined images of surrounding soft tissues, such as muscles, cartilage, ligaments and tendons, delivering comprehensive information about not just the joint itself, but all the components that might be affected. MRI can be used to get extensive infor-mation about the spine, shoulders, knees, hips and other joints, and pinpoint arthritis and its accompanying factors, including joint structure and alignment, the narrowing of spaces between joints, bone spurs and more. MRI can capture osteoarthritis earlier in its course than other diagnostic tools, making it a valuable test for people who are just starting to feel the limitations posed by arthritis, as well as those who have lived with arthritic pain for months or years.
The key to relief and a return to more active living is to get an accurate diagnosis. Once arthritis is discovered, it can be managed using oral and/or injected medication, physical therapy, changes in diet and exercise, and, in extreme cases, surgeries like joint fusion or replacement.
If you suffer from joint pain and inflammation, talk to your doctor. Treating it now may help you avoid or delay more serious problems down the road.
Radiology Assoicates
352-671-4300 . www.RAOcala.com