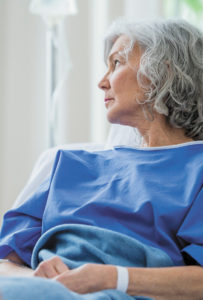 If you have a cardiac episode that puts you in the Emergency Room or admits you to the hospital, one of the most important things you can do to ensure your cardiac health is managed properly is to see your cardiologist soon after you are discharged.
Cardiac episodes are scary, to say the least, but ignoring the source of the heart disorder, brushing off symptoms, going about your everyday life is, unfortunately, a common thing that many people do once released from the hospital. Why is this so dangerous? Well, to start, the symptoms most likely come back if not treated by your cardiologist. The next issue is that you may need to be on medication, have your medications changed, you may need to have further diagnostic testing done like a stress test or an angiogram. Whatever the case may be, after your cardiac hospitalization, you need to make an appointment with your cardiologist as soon as possible.
Those individuals with CHF (cardiac heart failure) are a prime example of why following up with a cardiologist is imperative. CHF patients often have incidents of fluid build-up, which can make it difficult for them to breath. They often feel as if they are drowning and call 911 frequently due to this terrifying sensation. When under cardiac care, their cardiologist can prevent these readmissions to the hospital by several means. The physician can prescribe medications to block fluid build-up, have a cardiac monitor through specific home health programs, and have specialists help with understanding nutrition and how to keep sodium at its lowest for CHF patients, which is extremely important.
If you are discharged from the hospital, calling your cardiologist to schedule an appointment is also vital because you may need further testing.
Diagnostic Testing
In today's modern medical world, we have so many tests that can pinpoint exactly what's wrong with our hearts; if only more patients would take advantage of getting tested to know where their risk factors and cardiac health fall, they would give themselves a jump start on living a much healthier life with greater longevity.
An electrocardiogram (EKG or ECG) measures the electrical activity of the heartbeat. If you are experiencing heart symptoms, this is usually the first test that will be administered in an office setting or in the ER. If there are any abnormalities, more testing will follow to eliminate issues, or in many cases, put the pieces together to find out what's causing your warning signs.
Stress tests are one of the most common methods to detect heart function during exercise and at rest. If you are unable to exercise, there are nuclear stress test options that utilize an injectable contrast to mimic the heart rate elevation of exercise, while you lie or sit down. Either way, a stress test is a staple to discovering the functionality of your heart.
Sometimes stress tests are not enough, and further testing like an angiogram is required to see how the inside (lumen) of the blood vessels, arteries, and heart chambers are working via CT imaging. An angiogram can show blockages and other blood flow abnormalities.
Many times cardiologists will ask patients to wear a Holter Monitor for anywhere from 24 hours to several days depending on your specific situation and risk factors. The monitor is a portable electrocardiography device that continuously monitors the rhythm and the heart's activity.
An echocardiogram is an ultrasound of the heart that can detect how the blood is pumping and it can also identify the size and thickness of the valves, chambers, and arteries.
Depending on your diagnosis and indicators, the treatment can vary from merely taking medications to having a non-invasive procedure, or a surgery. The best advice any cardiologist will give you is, "Don't ignore your symptoms!" If you have any heart irregularities or discomfort, seeking medical attention fast is imperative.
If you believe you are having a heart attack or stroke, call 911! If you're having initial symptoms that come and go, contact your cardiologist immediately. The same holds true for when you are discharged from the hospital—Call your cardiologist as soon as possible! They will keep you at your healthiest, alleviate readmissions to the hospital (which are costly) and provide detailed tweaks and recommendations for your specific heart issue.
Florida Cardiology Associates of Ocala
They're a full-service cardiovascular practice and believe in working together with their patients to maintain and improve their health. Their providers promote comprehensive health care services for their patients in a friendly, relaxed atmosphere. They also believe in educating their patients as they work with them to achieve optimal health.
Please call Florida Cardiology Associates of Ocala today at (352) 291-0019 to schedule your appointment.
This information is for educational purposes only and is not intended to replace the advice of your doctor or health care provider. We encourage you to discuss with your doctor any questions or concerns you may have.