Local Chiropractor Gets Tremendous Results Utilizing Cox Flexion Distraction Technique to Relieve Sciatica Pain.
Why waste your hard earned money! Our technique is covered by most insurances.
By Compton Chiropractic Care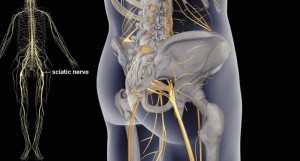 Currently there are millions of Americans who suffer from low back and leg pain. A recent survey showed, a a large majority of these patients are over the age of 65. When you figure that the Villages has a population exceeding 100,000 and a majority are over the age of 65 then it becomes easier to understand why so many local residents experience this pain. In fact, seven out of ten patients who walk into Dr. Compton's office complain of low back or sciatic pain. It is common knowledge that Chiropractors treat low back pain among other muscular skeletal complaints. What is not well known is that there are over a dozen different techniques and treatment plans to treat the same condition. Different Doctor's feel one technique is better than another but the proof is in the pudding. What makes a Doctor truly unique and beneficial to their patients is being able to properly diagnose a condition the first time and realize when a particular protocol is not working and escalate care to the next level.
Sciatica is defined by The Mayo Clinic as: Pain that radiates along the path of the sciatic nerve, which branches from your lower back through your hips and buttocks and down each leg. Typically, sciatica affects only one side of your body.
Sciatica most commonly occurs when a herniated disk or a bone spur compresses part of a nerve. This causes inflammation, pain and often numbness in the affected leg. Although the pain associated with sciatica can be severe, most cases resolve with conservative chiropractic care in a few weeks. Interestingly enough; due to the anatomical location of the sciatic nerve, sciatic type pain can also be caused by Piriformis syndrome or sacro-iliac joint dysfunction. These two conditions mascaraed around with similar signs and symptoms and can lead to improper diagnosis and treatment. This means patients spend money and do not get better, never a good thing.
The Doctors at Compton Chiropractic are board certified and have degrees from Palmer College (The First Chiropractic Medical School). Among other common conditions they treat low back and sciatic pain on a daily basis with great success. The Doctors are integrated with several local primary care physicians, urgent cares, neurologists, pain management physicians, and orthopedic surgeons. This level of integration means that the patient benefits faster and more effectively.
These days it's hard to walk around the golf course and not hear someone talking about their "sciatica". Unfortunately, the great game of golf tends to wreak havoc on ones spine and muscular systems. This is one reason why many top pro golfers (Tiger Woods, Tommoy Armour) among other athletes have a chiropractic physician on staff. Certainly if professional golfers with great swings utilize chiropractic care, then local residents who have trouble swinging could potentially benefit more.
Compton Chiropractic has been serving The Villages since 2006 with knowledgeable Doctors and friendly staff who treat sciatica pain on a daily basis. They primarily utilize "Cox Flexion Distraction Technique" which was developed by Dr. James M. Cox in the early 1960's as a non-surgical method of treating disc related injuries. Since that time Doctors of different specialties around the country have studied and utilized these methods with great success.
Many residents are familiar with the terms herniated disc, sciatica, pinched nerve, bulging disc and stenosis. Many are also aware that surgery has been the most common treatment for these injuries in the past. However, years of research and technology have pushed us into the 21st century and now there is hope for those who suffer from this debilitating pain. It is now commonplace in medicine to try the most conservative means of treatment first. This approach is a win: win for patients and doctors alike because it means less wasted time and money.
Dr. Compton shares the ways that many residents have become his patient's:
First:
• Some patients come directly to our office as referrals are not necessary.
• Others tend to start at their Primary care Physicians office (PCP). The PCP will evaluate and treat with medication. Then the patient presents to our office.
Second:
• We evaluate and treat the patient while working with the PCP if indicated.
• We treat as needed based on the patient's presentation (3-10 visits). Should we fail to see results quickly we recognize the need to progress the case. This means advanced imaging and orthopedic consultation.
Doctor Compton states that, "some patients will require surgery for pain relief", however in most cases he can postpone or prevent surgery for his patients.
The Doctors at Compton Chiropractic have received additional education on the Cox Technique among others. This conservative treatment has been shown to decrease disc pressure by approximately 75% thus allowing relief of the signs and symptoms of disc related pain (Sciatica).
The average treatment time is only about 15 minutes and most patients report feeling better in just a few visits.
Some of Dr. Compton's Patients said:
"I suffered from sciatica for 25 years until a friend told me about Doc. After 4 treatments I was back on the golf course and out of pain." – K.R.
"I thought I would live with this pain for the rest of my life, But thankfully I was wrong and Doc was right." – M.M.
"Dr. C is an amazing Doctor who actually cares for his patients like they were family." – A.O.
"My back feels twenty years younger."- C.C.
"Although the Doctor was only able to give me temporary relief, he was responsible for getting me to great surgeon who helped me. I will continue to see and trust Dr. Compton." – T.A.
Doctor Compton's office is located in The Palm Ridge Plaza off CR 466 and they accept all major insurances. Office hours are M-F from 9am to 5 pm.
About Dr. Compton
Dr. Compton being a sports enthusiast much of his life learned early that pain and injury was a part of the game and as he grew he learned that chiropractic care could eliminate many of those pains and enhance his athletic abilitysimultaneously. At the age of 16 he was injured during a football game taking a helmet to the back and for 3 months could not move without severe back and leg pain. His primary physician ran several tests including a CT and could find no reason for the pain and suggested it was in his head. While observing his teammates during a baseball practice a father in the stands ask why he was on crutches and not playing. After hearing the story that father Dr. Robert Gehly, who was also a chiropractic physician, had him and his parents meet him at his office on a Saturday after a through exam and x-rays he had determined the cause of the pain and provided an adjustment that immediately relieved 50% of the pain that he had endured for 3 months. Two treatments later there was no further pain in the back or the leg and this was the first of many positive effects chiropractic had on his life.
After graduating high school at Calvary Christian Academy Dr. Compton pursued a 12 year career in the military rather than attend college. He was married to his wife Lynn and raised 2 children Dave and Brent while leaving Michigan and taking up residence in Florida. After being honorably discharged from service he decided at the age of 35 to return for the college degree he had bypassed earlier. It was during this time he reflected on the many positive effects chiropractic care had on himself and his family and decided he would become a doctor of chiropractic. Upon graduating from The University of Florida with a degree in nutrition he started his chiropractic education at Palmer College of Chiropractic the most prestigious school he knew of and 4 years later was granted his doctorate. Immediately after finishing his education and 18 months of clinic experience Dr. Compton opened his practice in The Villages Florida a few miles from his home.
About Dr. Brent Compton
Dr. Brent was raised here in Central Florida and graduated From Leesburg High School in 2005. While growing up he spent much of his time fishing, playing baseball, and soccer. In high school he learned to scuba dive which along with fishing continues to be one of his favorite hobbies still today. After high school Dr. Brent attended The University of Central Florida where he graduated with his bachelors degree in pre-professional biology in 2009. While attending UCF he spent spare time competing in nationwide bass tournaments for the school's fishing team. Upon graduation Dr. Brent moved to the east coast where he immediately began medical school at Palmer College of Chiropractic. While attending the year around program at Palmer, Dr. Brent became very interested in sports related medicine and nutrition. After completing the four year curriculum Dr. Brent graduated from Palmer in 2012. He decided to move back home in order to join his father's practice located off 466 in The Villages. Together they now deliver a small town family approach to healthcare which has become rare these days. Within the next year Dr. Brent plans on volunteering at local athletic events along with coaching youth sports.
Compton Chiropractic Care
352-391-1126