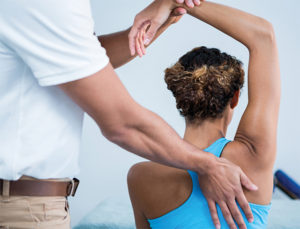 September is Drug-Free Pain Management Awareness Month. The opioid crisis in America is getting worse every year, and one of the answers to fixing this massive problem is to find healthcare approaches that prevent the prescription of pain medications in the first place. Chiropractic care, acupuncture, massage therapy, and decreasing inflammation through dietary changes are a few options to help decreasing pain naturally. In this article, we will explore how we got to this point and what we can do about getting healthier and feeling better as a society.
Almost one third of Americans (100 million) suffer from chronic pain. It costs around $635 billion per year in healthcare costs to manage. Between 1999-2014, more than 165,000 people died in the US from prescription opioid overdoses. 6 in 10 Americans take prescription medications. While chiropractic care has been shown to help manage acute, subacute, chronic pain, as well as prevent pain, it is very important that pain is not able to reach chronic stages. Chronic pain is defined as pain that is felt for more than half of the days of a 6 month period. Many people do not realize that chronic pain is actually becomes a central nervous system disorder that affects the entire body and brain. Chronic pain sufferers are more likely to start taking pain medications and become addicted to them, as their options for pain management in the current healthcare model are limited to few options.
When non-surgical approaches are used as a first line treatment, the amount of people on pain medications long term decreases. A study looked at elective surgical treatment vs. non-surgical treatment for pain and found that 6% of patients filled opioid medications long term after surgery, while only 0.4% of the non-surgical group filled opioid prescriptions. We can decrease the dependence on opioids by suggesting patients first try alternative healthcare options like chiropractic care in the first place. 80% of Americans will experience back pain, and many people are well aware that chiropractic care has been shown very helpful for pain issues like back pain, neck pain and headaches among other common maladies.
Chiropractic care is a drug-free and surgery-free approach to natural healing that focuses on removing misalignments in the spine that lead to ligament and muscle issues, and even more importantly problems with nerve interference that stop the body from healing itself as well as it naturally is able. Research has shown even beyond pain relief, chiropractic care provides patients an increase in their quality of life. They are able to do more of what they want, spend time with their families, enjoy hobbies, and contribute meaningfully to their communities. Chiropractors receive a minimum of 7 years of higher education and are trained to work with other healthcare professionals in the care of their patients.
If you or someone you know suffers from pain, a consultation and assessment from a chiropractor will help them understand the cause of your pain and whether you can benefit from chiropractic care. Our office provides chiropractic care, massage therapy, acupuncture, functional medicine and nutritional counseling to help you reach your healthcare goals, naturally. Prevention of health and spinal issues is often the best way to make sure we stay healthy throughout our lives, and we can health you reach that goal at Full Life Chiropractic. Call us at 813-428-5648 for a complimentary consultation and see if we can help you or your family.
Full Life Chiropractic
813-428-5648
1003 N Dale Mabry Hwy., Lutz, FL 33548