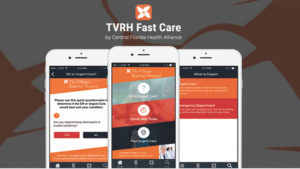 It's only natural that a visit to the emergency room sparks anxiety about the issue itself, tests and fear of all the unknowns associated with an unexpected health issue. Emergency rooms are designed to be a safe place for individuals seeking immediate and significant medical attention. The Villages® Regional Hospital (TVRH) is prepared for such circumstances by providing the most comprehensive emergency care in the region.
The Villages® Regional Hospital's ER
Providing emergency care is one of the most important services TVRH addresses. The hospital's focus is that all patients receive the very best health care especially in the most pressing of circumstances. TVRH understands that human nature drives patient frustration during the ER experience, which includes waiting to be seen, diagnosed, treated and released from or admitted to the hospital. At the same time, TVRH staff is clear that the only way to provide proper healthcare is through a variety and sometimes seemingly endless testing protocols. It's simple – sometimes the science behind treatment methods require a most precious prescription of time.
Every experienced ER staff member understands that those in need of care and those waiting for loved ones are anxious and stressed. To ease those concerns, hospital staff members strive to set expectations about the emergency room experience, which is unique, and often requires time-intensive steps to ensure a patient is safe. The patient's well-being is the ER staff's priority and why TVRH follows stringent guidelines that can sometimes be perceived as unnecessary. There are no shortcuts; proper ER care cannot be compromised.
The life or death realities of an ER require prioritizing the most serious cases as they come in, which can indeed disrupt and delay the care of other patients with non-life-threatening issues. In the ER, every patient is entitled and expected to become the priority when their life is at risk, even when it means that other patients with more manageable issues may be delayed a bit. Those are just fundamental issues in every emergency room.
The extreme demands of the ER are like no other in healthcare. TVRH's ER is staffed with highly trained and experienced nursing and clinical team members who specialize in emergency care. These are the individuals who through their extensive training and expertise know how to respond quickly, prioritize, and multitask according to the unique and stressful demands of an emergency room.
A Faster and More Efficient Emergency Room
The Villages® Regional Hospital is constantly evaluating its operations and systems to identify efficiencies and better methods to improve the patient experience. For instance, the hospital has successfully reduced emergency room wait times a bit by implementing a more efficient system that moves low acuity patients through different triage protocols; more serious patients progress through other protocols more appropriate for their immediate health needs. Plus, the emergency room has been redesigned with individual patient rooms to create a more private experience, a significant and welcome change from the traditionally shared patient space in most emergency rooms.
And due to the unique, seasonal nature of the community it serves, every year the TVRH ER adjusts its staffing to meet the significant demand increases that occur during the busiest months.
Recently, TVRH expanded its ER to accommodate up to 50 beds, as well as its MI (heart attack) Treatment Center, Primary Stroke Center, and an Accredited Chest Pain Center with PCI and Resuscitation. Additionally, their patients have access to an entire Heart Center, the area's only neurosurgery team and more than 100 other specialists.
When seconds count, The Villages® Regional Hospital's team of emergency medicine specialists stand ready to support, quick diagnose and treatment for the most challenging situations. Specialty referral resources, including an academic affiliation with the University of Florida Health Shands, are seamlessly integrated throughout emergency treatment, from inpatient admission to post-discharge once patients arrive back home.
TVRH Fast Care App
When there's an emergency, time is of the essence. Get the care you need quickly with TVRH's new, free mobile app (available for download on iPhone, iPad, and Android phones). In the Apple App Store or Google Play, search "TVRH Fast Care" to download.
The Villages® Regional Hospital provides a higher level of emergency care with a patient centered model of care.
The emergency room and emergency care team at TVRH are here to provide excellent care, advanced technology to reduce wait times and to increase efficiency. Every second counts! If you or someone you know needs emergency treatment, call 911 or get to the emergency room immediately.
The Villages Regional Hospital
www.TheVillagesRegionalHospital.org
1451 El Camino Real, The Villages, FL 32159