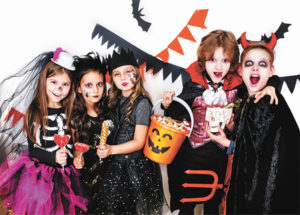 With Halloween approaching, you're kiddos, grandchildren and let's be honest, parents too, are about to go hog-wild on some sugary treats this month. If you're not careful about brushing all of that sticky sugar off, you might end up looking like a Jack O' Lantern. Probably not, but you will be susceptible to cavities, and no one wants to hear the words, "You need a filling."
The other issue with some candy is that it can actually cause tiny fractures in the enamel or in some cases, break and chip your teeth or restorations. Ocala Dental Care has your children and your best interest in mind this Halloween season. That is why they have compiled a good, better best list when it comes to purchases, receiving and eating these tempting sweet treats.
GOOD: Well, maybe this section should have been titled, "IF YOU MUST." Some of the sticky candies are the most popular things that your kid will get from the neighbor's houses. Sugary sweets like Candy Corn, Starbursts, Taffy, Lollipops and Caramels are at the top of the list. These are okay, but it's essential to rinse your mouth out with water and then brush your teeth (longer than average) to make sure you get all of those sticky little bits off of your teeth. The surfaces of your teeth are like crevices, and sticky candy finds a way to hide out in there unless you're really diligent about brushing and flossing. If candy is left on the tooth surface, it feeds the bacteria in the mouth and causes acidity, plaque, and decay. Even if it's a late night, brush and floss that sugar away!
BETTER: Fruit juice gummies are still candy, but a little healthier than their chemical-laden cousins and the gelatin is a good source of calcium. Sugar coated chocolates are fine, nerd candies or other dissolving candies like sweet tarts are better options because the sugar is easier to brush off of your teeth. Licorice and other chewy candies that are not extremely sticky are fine options too.
BEST: There are so many healthier choices today like organic candies and real fruit juice options out there that should make shopping for your Halloween candy a little less stressful. Chocolate candy especially dark chocolate is an excellent option because of its lower sugar content. In fact, chocolate is the better option because the viscosity of the sweets washes off of your teeth very easily. An even better option is chocolate covered fruit, and nuts like chocolate dipped apple slices or chocolate covered almonds because they're healthier and provide fiber and protein. Popcorn is also a great alternative to candy, even caramel popcorn or popcorn balls are delicious and a special healthier treat than taffy or other sticky sweets.
IT'S A SPECIAL OCCASION, GO AHEAD, ENJOY YOURSELVES AND HAVE A SAFE AND HAPPY HALLOWEEN!
Ocala Dental Care
Ocala Dental Care is a restorative dental office dedicated to offering exceptional care from dental basics to extensive procedures, all within a warm, inviting setting. They provide comprehensive restorative and general dentistry services to patients, including dental hygiene cleanings, root canals, endodontics, dental implants, dentures, crowns, and full mouth reconstruction.
Members of the FDA and Central Florida District Dental Association, they have been serving patients for more than 30 years and look forward to serving all of your dental needs.
If you or someone you know is concerned about their oral health, or if you need a check-up, please contact Ocala Dental Care today.
Ocala Dental Care
2415 SW 27th Ave
Ocala, FL 34471
352-237-6196
www.OcalaDentalCare.com