By Lucia Roca, DDS, MDS, Board Certified Periodontist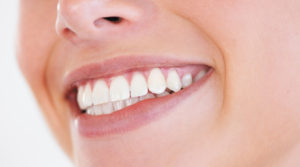 It's imperative to visit your dentist regularly to keep your teeth healthy. Many people overlook that keeping our gum (gingival) tissues healthy are just as essential.
One of the common issues that hygienist and dentist see with their patients is over brushing. If you're not brushing with a soft toothbrush and taking your time to clean each surface of every tooth gently, then you most likely are aggressively over brushing your teeth.
You may be confused about the proper way to brush, and in turn, you could be causing extreme damage to your gingival tissue. Have you noticed any recession on your gum line? Do the roots of your teeth show? If you answered yes to those two questions, you may be a little self-conscious about your smile, and not aware of the potential infection and bacteria that could harbor into the gum line and increase the amount of recession that you already have.
Up until recently, there was only one treatment option for gum line shrinkage or recession. That procedure was accomplished through skin grafting. Essentially, part of your pallet (upper mouth) skin was cut away with a scalpel and then grafted into place with sutures to the receded areas. It's not the worst-case scenario, but many patients are reluctant to have a surgical procedure out of fear.
Restoration Through a Tiny Pinhole
There is a new technique that's showing innumerable successful outcomes for patients with gingival recession. It's called a Pinhole Technique. A dentist that has received a great deal of notoriety for this new procedure and has since certified other dentists to perform his technique developed it. Eliminating the need for skin grafting, cutting, and sutures; this method is accomplished by making a tiny pinhole above the receding area and loosening the gum tissue.
The dentist will then move the gingiva and reposition it to cover the roots of the exposed area of the teeth, creating a normal gum line. Collagen strips are placed around the teeth, keeping the gum line in place. The patients will see immediate results and will experience little to no bleeding, swelling, or pain. The tiny pinhole heals quickly, within 24 hours and the collagen strips are resorbable and do not need to be removed. The strips will help the body to produce more natural collagen, and therefore, healing will be rapid.
Laurel Manor Dental
At Laurel Manor Dental, all of their dentists are highly trained in treating receding gingival tissue, and they take great pride in your getting you to your most advantageous dental and oral health. Laurel Manor Dental goes one step further because they have an onsite specialist in periodontal disease and prosthesis. Her name is Dr. Lucia Roca, and she is also certified in the Pinhole Technique.
After receiving her Doctor of Dental Surgery degree, Dr. Roca spent an additional three years studying at the University of Connecticut School Of Dental Medicine. She was then accepted into the University of Medicine and Dentistry of New Jersey/Rutgers, where she performed clinical research, completed her periodontics residency, and earned her Masters of Dental Science degree.
As a member of the American Dental Association and the American Academy of Periodontology, Dr. Roca has worked tirelessly to help bring dental care to those in need from the city streets of Newark, NJ to the rural villages of Guatemala. Her dedication and continual interest in acquiring new dental knowledge have deep ties, as Dr. Roca's parents are both dentists, and she herself is now married to a dentist. Dr. Roca takes satisfaction in clarifying the best treatment options for her patients in English, Spanish, or Italian!
If you or someone you love is in need of a dental consultation for any of the issues mentioned above, or for other general dental needs or concerns, please call Laurel Manor Dental at (352) 430-1710, or visit laurelmanordental.com.
Laurel Manor Dental
1950 Laurel Manor Drive, Suite 180
The Villages, FL32159