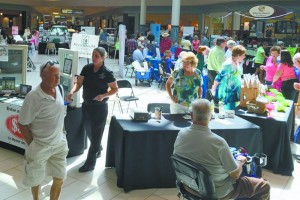 Whether you're 50 or 90, or anywhere in between, you'll love the Health & Senior Expo. Come out and meet the experts who can make your life healthier, wealthier and happier!
Get connected with Mt. Dora's and Clermont's largest Health & Senior Expos. This fun, informational event brings seniors together with the products and services that are invaluable to maintaining a high quality of life.
The Mt. Dora Health & Senior Expo will take place October 20 from 9am to 2pm at Mt. Dora Christian Academy. The Clermont Health & Senior Expo will take place November 12 from 9am to 2pm at the Wesley Center at First United Methodist Church.
The Health & Senior Expo is the place for area seniors to receive cutting edge information on a wide range of products and services while having a lot of fun!
The Health & Senior Expo features over 40 booths, health and wellness info, interactive activities and educational workshops. The Expo hosts free Bingo with prizes, samples from local and national vendors, lifestyle exhibitors, and advice from holistic health professionals!
Learn hundreds of ways to improve your health and extend your life. Find out more about retirement, investments, travel and leisure options for seniors, holistic healthcare alternatives, and local community resources.
Celebrate by participating in a full line up of activities to keep you safe, healthy, and informed. Walk through the exhibit hall and learn more about healthy aging.
According to Margaret Buckler, Coordinator of the event, "The information offered at the Health & Senior Expo will be of special interest to folks fifty plus that have different needs as they age. The Exhibitor mix is excellent: Healthcare, Hospitals, Insurance, Homecare, Mobility products, Hearing, Healing and much more… dozens of top companies with representatives on site to answer all your questions."
For more information about the Expos, call Buckler Promotions at 386-860-0092 today!
See you at the Expo!
Health & Senior Expos
October 20
9AM-2PM
November 12
9AM-2PM