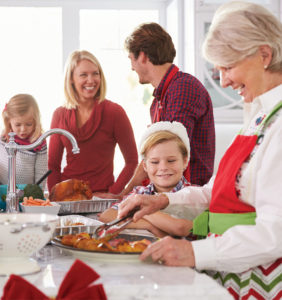 The holiday season is the time for family, friends, and creating new memories. Dr. Barnes, owner and Audiologist at Family Hearing Center, wants to ensure you are ready for all the holidays have to offer. During the month of December we're offering:
• A full hearing healthcare check.
• A complete otoscopic examination for ear wax or other blockages
• A clean and check of current hearing aids at no charge
• A demonstration of the latest technology
Call us at (813) 899-1651 to schedule your appointment. Appointments are available on a first-come, first-served basis.
How do you know when it's time for a hearing check up?
Do these situations challenge your hearing?
If yes, call us today at 813-899-1651
Do people seem to mumble or talk in a softer voice than they used to? Yes No
When in a crowd or a busy restaurant, is it hard for you to follow the discussion? Yes No
Do you ever just nod along in a conversation at a party, but you cannot really hear what the other person is saying? Yes No
Do you feel the need to turn up the volume on your TV or radio, such that it is too loud for others?
Yes No
Do you have ringing or other sounds in your ears? Yes No
Do you often need to ask others to repeat themselves? Yes No
Has someone close to you pointed out that you may have a hearing problem? Yes No
How did you do? The answers you have given may present an early indication of whether your hearing may be impaired. If you answered "YES" to one or more of these questions, Dr. Barnes can help
Dr Barnes grew up in the Temple Terrace area and went to the University of South Florida for both her bachelorette and doctoral degrees. "I'm a true Tampa girl through and through."
If you or a loved one is experiencing hearing loss or hearing related issues, call 813, 899-1651
"We treat our patients as family"
Family Hearing Center
813-899-1651
9804 North 56th Street
Temple Terrace, FL 33617
(Located in Temple Terrace just South of USF)
www.familyhearingcenteroftampa.com