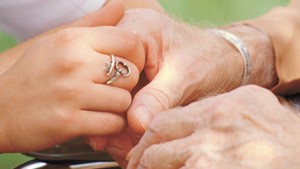 Aid you know that you have the right to choose your home care company?  This can be a confusing and often daunting task. When you want to choose the company with the longest track record and excellent patient care, just let your Doctor know to Order "Nurse On Call" for all of your Home Healthcare needs.
Nurse On Call is a Medicare certified agency that has been providing home healthcare services since 1989. With 27 offices, serving 47 counties within Florida, we have a strong reputation for providing hospitals, case managers, and physicians the professionalism they demand for their patients. We take pride in our strong reputation for furnishing the high quality skilled nursing, rehabilitation and related services that our patients and their families and physicians expect and deserve.
Many of the Nurse On Call staff and management have greater than fifteen years in home healthcare. That means experience. At Nurse On Call, our caregiver staff is attuned to the needs of both patients and their physicians, and our goal at all times is to provide the highest level of care possible. Our nurses, aides and other caregivers are experienced and compassionate, and our care teams work with physicians to design individualized treatment plans that are tailored to meet the precise needs of each patient. We know that experience, training and strong communication skills are the essential tools of home healthcare.
Nurse On Call recognizes that as important as technical skills are to home healthcare, so is the need for empathy and kindness. Our staff is composed of professionals who have demonstrated the sincere desire to help people, even in the most adverse conditions. We believe that dignity and respect are the foundations of home healthcare, and they are the guiding values of our company and our caregivers.
We Are Here to Help…
Nurse On Call provides a complete range of home healthcare services and is Medicare certified. Our staff is licensed to provide patients with quality care, including skilled nursing, rehabilitation, and personal care. All care is tailored to meet the individualized needs of each patient.
Please call us at (352) 391-5375 to answer any questions you may have, also remember to request that your Doctor Order "Nurse On Call" for all of your Home Healthcare needs!
TESTIMONIAL
A 91 Year Old Cuban American Female with multiple health issues, which includes debilitating pain, weakness, hypertension, and Osteoporosis. Before she began Physical Therapy, she had very limited mobility and couldn't get around without a walker. After 2 months of dedicated and personal Physical Therapy she is able to get around without her walker. She also can get in and out of her car and is even driving. She has her life back and is "PAIN FREE" – Acacia P.
With over 20 years experience in Physical Therapy, Ted specializes in rehabilitating patients with limited mobility. He has gained his experience while working in a variety of different capacities, from Outpatient Hospital to Assisted Nursing facilities to Home Healthcare. Ted has been with Nurse On Call since 2004 after he moved here from North Carolina. His personal care and dedication to the patients success is second to none! Ted Langdon, PTA