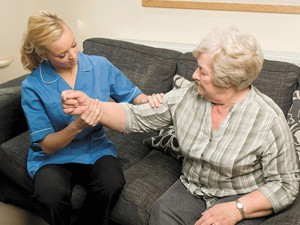 Do you often find yourself waiting in a laboratory or doctor's office because you or someone you love requires a blood draw? For those of you that find it difficult, inconvenient or expensive to make the trips to the office just to have your blood drawn LabRetriever offers a service that may quickly prove to save you time and money.
LabRetriever provides an alternative option of having your blood drawn in the comfort of your own home on your schedule. The friendly and knowledgable phlebotomists have more than 20 years of experience providing blood draw and delivery services. In fact, the family of professionals has drawn and delivered more than one million specimens. LabRetriever has a proven track record with individuals, healthcare professionals and labs throughout the Gulf Coast of Florida.
You can be confident that LabRetriever services meet or exceed the highest professional standards. Partnering with respected area labs to ensure that your blood specimen is tested quickly, accurately and professionally; you can rest assured that Lab Retriever has a solid working relationship with whatever lab is selected by your insurance and physician.
Never Drive To The Lab Again
Now having your blood tested can be easy and convenient. LabRetriever draws your blood in the comfort of your own home, then rushes to the lab as determined by your physician or insurance.
Trained, experienced technicians make it fast, simple and care-free. And it's all at great price!
LabRetriever is ideal for anyone who may have transportation issues, requires early morning or frequent blood draws, or may require the aid of a walker, wheelchair, electric scooter or portable oxygen. This service is also a helpful solution for those who are on blood thinners or other drug therapy medications that require frequent blood tests.
You'll love the convenience, quality and value of this blood draw and delivery service. But don't just take our word for it. Read what people like you are saying about LabRetriever.
"Getting my blood drawn used to be so stressful for me. First, there was all the traffic on the road. Then, there was always a crowd at the lab. Sitting around for so long really tested my patience. But LabRetriever's service does away with all that hassle."
– Marjorie L.
"Helping mom get her blood taken was such a big commitment of time. Making appointments, driving across town, sitting forever with all those people in the lab waiting room. Your service has eliminated so many hassles for our family." – Jennifer M.
"I have to get my blood tested once a week. It took so much time and was so inconvenient. Now, my LabRetriever tech comes to my house and takes my blood while I relax in my easy chair. He's here and gone within 10 minutes! I love this service." – Clark R.
"Less time in labs. More time on the golf course. I love it!" – Larry S.
Call 855-227-3159 to learn more about LabRetriever's in-home blood draw service today. Don't waste any more time and energy going to the lab or doctor office just to have your blood drawn.
LabRetriever – Schedule Your Appointment Today. Call 1-855-227-3159