Dr. Jordan Axe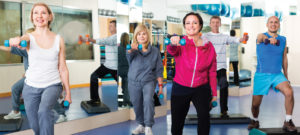 Axe Holistic Medicine specializes in regenerative and functional medicine, spinal restoration, and chiropractic care. Dr. Axe and the practitioners at the center are passionate about helping patients to stop masking their symptoms and to find real answers and effective solutions for their health conditions. One of those patients is 75-year old, Sara Lawson.
Sara's Story
Sara was a very energetic woman; in fact, she was an all-star basketball guard in high school and continued her passion for sports and living life at its fullest throughout her adulthood. Sara led a life full of activities and exercised up until she needed a knee replacement, which to her disappointment, slowed her down significantly.
Like many others, Sara decided to take a different approach to rebuild her strength and vigor; she sought out Dr. Jordan Axe of Axe Holistic Medicine. Regenerative medicine provides a safe and effective treatment for many conditions, including joint inflammation and arthritis. Regenerative medicine has the potential to slow down the progression of joint dysfunction. When used in combination with other treatment options like chiropractic care, stem cell treatments, or PEMF, the rapid onset of healing begins, and inflammation and pain are significantly reduced.
Patient-Tailored Treatment Plans are Essential for Healing
Sara's first appointment with Dr. Axe was over a year ago. After evaluating her condition and her overall health, Dr. Axe and his team developed a customized plan for Sara to get her back into peak condition and doing the things she loves.
"There is no one miraculous cure; it takes a multifactorial approach to find the best ways to relieve a person's pain and heal cellular damage. We incorporate joint injections that are made up of several elements of growth factors, B vitamins, and ozone (oxygen) amalgamation. This combination gives the body the capacity to regenerate itself." Explained Dr. Axe. "The blending of proteins and growth factors creates cellular regeneration within the joints."
Sara first started receiving the combined stem cell injections and immediately noticed less pain. Over time the inflammation eased, and her body began to heal itself from within, creating synovial fluids and regenerating cartilage and soft tissue. Her range of motion improved, and her ability to get around significantly increased in a short period of time.
As she healed, Sara's treatment was tweaked to fit her needs. Now, Sara's treatment includes preventative chiropractic treatment to help her preclude injury and reduce any pain or inflammation in her body.
Sara's treatment involves a wobble cushion to improve balance, standing cervical traction to realign the neck and spine and to rehydrate the vertebrae and joints. She then receives adjustments (based on examination and imaging). Sara then stands on a pulsating vibration plate (created by NASA) to enhance the adjustments and create intrinsic healing. In several studies, the plate also showed marked improvement in bone density and circulatory function. Sara now only sees Dr. Axe once a month.
Sara's Outcome
Wondering just how effective these treatments have been for Sara? She runs an aerobics class once a week and teaches water aerobics twice a week. Sara told us. "I wouldn't be able to do any of this if I didn't seek Dr. Axe, listen to his advice, and follow through with the plan."
Unlike standard medical care, that recommends unnecessary surgeries or masks symptoms with pain medications, inject patients with harmful corticosteroid, which actually causes more degeneration, Axe Holistic Medicine uses alternative therapies. With supplementation, PRP, stem cells, oxygen treatment, and natural injections of Traumeel®, which is shown to decrease inflammation and pain, increase healing, and regeneration patients are finding relief and solutions to incorporate into their lives for ongoing prevention, maintenance, and healing.
Regenerative Healing for your Chronic or Acute Conditions
If you are ready to find real answers and alternative, holistic treatment that is proven to regenerate the body on a cellular level and to find methods that treat the root cause of your condition, call Axe Holistic Medicine to schedule your consultation.
To find out more about Dr. Axe or to read other testimonials and stories like Sara's, please visit AxeHolisticMedicine.com.
Axe Holistic Medicine
15049 Bruce B Downs Boulevard
Tampa, FL 33647
813-369-5024
AxeHolisticMedicine.com