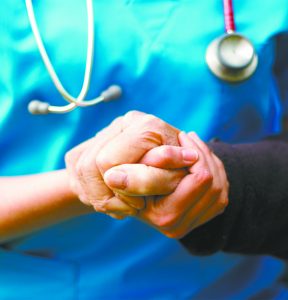 InterCommunity Cancer Center (ICCC), a leading provider of advanced radiation therapy in Lady Lake, Fla., is pleased to bring an exciting new technology to our region that can significantly improve quality of life for prostate cancer patients. SpaceOAR® hydrogel therapy pushes the rectum away from the prostate, creating a space between the two organs and keeping the rectum safely positioned out of the high dose radiation region during prostate radiotherapy. This significantly reduces rectal injury caused by unintended radiation exposure. InterCommunity Cancer Center will be an exclusive provider for this new treatment in the Lady Lake and Leesburg regions.
The hydrogel spacer is injected next to the outer wall of the rectum during a minimally invasive procedure. It changes from a liquid to a solid, pushing the prostate and rectum apart. Once in place, patients typically do not feel it. The hydrogel is safe and similar to other products used in brain surgery, cardiology and ophthalmology. It remains in place for several months after radiation treatment, but is then absorbed, leaving nothing behind.
"We are very excited to offer our prostate patients this new, innovative technology that can improve their overall quality of life," said Dr. David Catalano, Medical Director and Radiation Oncologist at ICCC. "Healthy cells in the rectum can be damaged by radiation that targets the prostate cancer, sometimes leading to bowel, urinary, or sexual symptoms that can be disturbing to patients. The hydrogel greatly reduces this unintentional damage by creating space between the prostate and the rectum."
Clinical trials in the U.S. and Europe have demonstrated hydrogel to be safe, and that the space created significantly reduces radiation dose that is otherwise delivered to the rectum. The randomized U.S. clinical trial found patients who received the hydrogel spacer reported less rectal symptoms during radiotherapy and significantly less severe long-term rectal complications.
Many Floridians Will Face Prostate Cancer
The addition of SpaceOAR(R) hydrogel to ICCC's treatment offerings is good news for the many men in our state who will be diagnosed with prostate cancer. The American Cancer Society (ACS) projects 12,830 new cases of the disease will occur in Florida this year, and 2,050 Floridian men will die from it.
Prostate cancer is the second most common cancer in America, after skin cancer. This year 161,360 new cases will be diagnosed in the U.S., with one man in seven facing a prostate cancer diagnosis at some point in his life.
When the cancer is detected early, it is highly treatable and has a high survival rate. If the cancer spreads beyond the prostate, the 5-year survival rate drops to roughly two thirds. That's why it is important for men to talk to their doctor to determine if screening would be beneficial.
Who Is At Risk?
All men are at risk for this commonly occurring cancer, and risk increases with age. It is very rare in men under 40, but risk rapidly increases after age 50. More than half of all cases occur in men older than 65. African-Americans are twice as likely to die from prostate cancer as white men.
No Early Warning Signs
Prostate cancer usually doesn't exhibit symptoms until it has advanced. That's why screening is so important. With advanced disease, patients may notice symptoms, such as:
. Weak urine stream
. Urge to urinate more often
. Blood in the urine or semen
. Erectile dysfunction, and/or
. Bone pain
Other conditions can cause these symptoms, so they don't necessarily indicate prostate cancer.
"All men should be proactive about their prostate health and check with their doctor to see if screening would be beneficial for them," said Dr. Catalano. "Screening can mean the difference between detecting prostate cancer early when it's highly treatable or later when the outcome is much poorer."
For more information about the advanced treatments for prostate cancer offered by InterCommunity Cancer Center, please visit www.usoncology.com.
ABOUT INTERCOMMUNITY
CANCER CENTER
InterCommunity Cancer Center (ICCC) has more than 30 years of experience providing quality, personalized cancer care in the Lady Lake and Leesburg communities and has treated more than 10,000 patients. Medical Director and Radiation Oncologist Dr. David J. Catalano has particular expertise in treating prostate, breast, lung, gynecologic, skin and many other cancers.
ICCC is an affiliate of The US Oncology Network ("The Network"). This collaboration unites ICCC with more than 1,400 independent physicians dedicated to delivering value-based, integrated care for patients — close to home. Through The Network, these independent doctors come together to form a community of shared expertise and resources dedicated to advancing local cancer care and to delivering better patient outcomes. The US Oncology Network is supported by McKesson Specialty Health, whose coordinated resources and infrastructure allow doctors in The Network to focus on the health of their patients, while McKesson focuses on the health of their practices. For more information, visit www.usoncology.com.
InterCommunity Cancer Center
(352) 674-6300
www.ladylakecancercenter.com