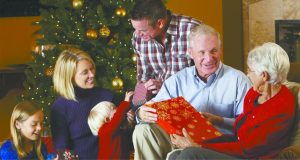 The busy holiday season is once again upon us. While most of us look forward to spending time with family and friends and enjoying the festivities that go along with this special season, it can be a difficult time for cancer patients and their loved ones. The typical holiday rush and added pressure that comes along with it often leave cancer patients and their families feeling left out and depressed, as they struggle to balance the reality of cancer with the expectations the holidays bring.
"Having cared for thousands of cancer patients over the years, we know a positive attitude plays a vital role in healing," said Dr. David Catalano, radiation oncologist at InterCommunity Cancer Center (ICCC) in Lady Lake, FL. "That's why it's important to be proactive about managing the holidays, rather than being overwhelmed and giving in to depression and feelings of sadness."
Take steps to organize holiday activities
Here are a few things patients and their loved ones can do to make the holiday a bit more manageable, supporting wellness for the entire family:
• Don't try to do everything you usually do
Consider scaling back this year, and concentrate on those things that are the most rewarding to you and your loved ones. Entertaining, going to parties and traveling for the holiday can be quite stressful, so pick and choose your activities carefully to prevent becoming overwhelmed and too tired.
• Look for easier ways to do things
If you are not an online shopper, now is the time to try it. Catalog shopping is also a great solution, as well as gift cards. Consider buying your holiday treats this year, rather than baking them. If you normally host a big holiday dinner, ask someone else to step in and handle it this year, or suggest going to a restaurant instead.
• Ask for help getting things done
Friends, neighbors and relatives are usually glad to help out when asked, so don't hesitate to call on your support network. They care about you and your loved ones and want to help. In fact, a lot of times these people really appreciate being asked to pitch in, as they feel like they are doing something positive to help you rather than just standing on the sidelines. Let them know if you need a hand decorating or cleaning your house, running errands, wrapping gifts or helping with other activities.
Be Thankful For The Small Things
Sometimes it's hard to be thankful for everyday blessings when you are battling such a tough opponent as cancer, but doing so can pay big dividends. Take a few minutes every day to push aside the darkness and negative feelings that often accompany this disease, and look for the good things that happened during the day, even if they are small events. Maybe you felt good today, or you spent time with someone you care about, or your test results were promising. These little things all add up, contributing to a positive outlook and outcome, so learn to acknowledge and celebrate these small gains whenever they occur.
"With the end of the year approaching, it's a good time to think about the many blessings of the past year," noted Dr. Catalano. "All of us at ICCC are so grateful to our patients and their loved ones, past and present, who have honored us by allowing us to care for them during their cancer journey. We are also grateful to this wonderful community that embraces us and our patients every day, and to our referring physician partners who play such a vital role in the care we provide. May all of you have a joyous, happy and healthy holiday."
For more information about InterCommunity Cancer Center, visit www.ICCCVantage.com.
ABOUT INTERCOMMUNITY CANCER CENTER
InterCommunity Cancer Center (ICCC) has 30 years of experience providing quality, personalized cancer care in the Lady Lake and Leesburg communities and has treated more than 10,000 patients. Radiation Oncologists Dr. David Catalano has exceptional expertise in treating breast, lung, prostate, gynecologic, skin and other cancers. ICCC is affiliated with Vantage Oncology which, along with The US Oncology Network, is part of McKesson Specialty Health's physician-led network of integrated, community-based oncology practices. This affiliation provides patients and practices a best-in-class platform and a robust suite of customizable offerings and services, including comprehensive oncology management services across radiation oncology, surgical specialties and medical oncology while focusing on community-based oncology care and innovative value-based cancer services. ICCC has access to clinical information and best practices from the treatment of more than 1,000 patients per day, enabling highly effective, peer-collaborated care. This empowers ICCC to offer academic-quality treatment in a community-based setting, providing exceptional cancer care close to home. To learn more, visit www.ICCCVantage.com.
(352) 674-6300
www.ICCCVantage.com