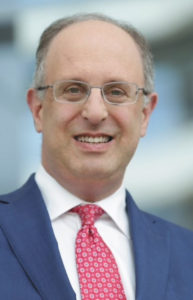 Many healthcare organizations are now encouraging physicians to take on executive positions. That is just what Central Florida Health, the 636-bed not-for-profit healthcare system comprised of Leesburg Regional Medical Center and The Villages® Regional Hospital, has done. Last month, the organization welcomed David H. Berger, MD, FACS, MHCM as the newest member of its senior executive team. Dr. Berger is serving as senior vice president and chief operating officer. In his new role, Dr. Berger provides management oversight for the development of high quality, cost-effective and clinically integrated patient care services.
"As a physician senior executive leader, I will be uniquely positioned to facilitate continuous improvement of the patient care delivery experience by aligning the goals of community physicians with the overall goals of Central Florida Health," said Dr. Berger. "It is an honor to be able to support Central Florida Health's mission of improving the quality of life of the residents of Lake, Sumter and South Marion counties."
Dr. Berger came to Central Florida Health from the Baylor College of Medicine in Houston, Texas, where he served as professional and vice-chair for quality and safety in the Michael E. DeBakey Department of Surgery. Dr. Berger previously served as the senior vice president and chief operating officer of Baylor St. Luke's Medical Center, chief medical officer of the Baylor College of Medicine McNair Facility and operative care line executive of the Michael E. DeBakey VA Medical Center.
With more than 25 years of healthcare leadership experience, Dr. Berger is an expert in patient flow, operating room throughput, quality and patient safety. He has extensive experience identifying cutting-edge health care technology and effectively implementing those technologies in the hospital setting.
Dr. Berger is a native of New York, where he received his medical degree from the State University of New York Health Science Center at Brooklyn. He completed a general surgery residency at SUNY-Brooklyn, fellowship in surgical oncology at the University of Texas MD Anderson Cancer Center in Houston and holds a Master of Science in Healthcare Management from the Harvard University T.H. Chan School of Public Health in Boston, Massachusetts.