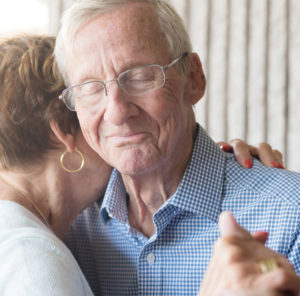 Unfortunately, we all know someone that has been diagnosed with Alzheimer's disease. The devastating effects of losing not only memory, but the "wholeness" of the individual can be overwhelming. Nearly 5.2 million Americans have Alzheimer's disease, and that number is expected to triple by 2050. Experts estimate that an Alzheimer's diagnosis will affect close to 15 million people by mid-century.
Forgetfulness, agitation, frustration, social withdraw, and difficulty with daily tasks, are all symptoms of Dementia. Alzheimer's is the most progressive form of dementia. As the tangles and plaques in the Alzheimer's brain become more prevalent, they cause neuron damage and disrupt the communication in the brain.
Causes & Risk Factors
For years, medical professionals and researchers have been trying to find the exact cause of Alzheimer's disease (AD). Even with the top three speculative triggers, it's still unclear as to what is causing this devastating disease to rob so many people of their cognition.
The main hallmarks of the disease are attributed to amyloid plaques, cerebral amyloid angiopathy, and neurofibrillary tangles. While these pathological markers are evident in many individuals with Alzheimer's disease, they are not always present in all; consequently, they cannot entirely account for the umbrella of cognitive disorders.
Advances in New Treatment Options & Clinical Trials:
Pharmaceutical companies are consistently researching promising new medications and treatment options to slow the progression of Alzheimer's and to find a cure for the disease.
One of Tampa Bay's leading Alzheimer's Research organizations, Stedman Clinical Trials works closely with pharmaceutical companies to bring new options to patients sooner through clinical research.
Dr. Stedman has been working in Alzheimer's research since 1997. Her immense success in this industry is attributable to her extensive 21 years of research experience and knowledge, as well as the company's passion for putting patients' needs first by providing personalized care. At Stedman Clinical Trials, patients ranging from those who do not yet have a diagnosis through those who are in severely progressed stages of Alzheimer's disease can find programs that will meet their individual needs, and a compassionate approach to Alzheimer's treatment.
Along with new treatments and curative medications, Dr. Stedman's team are huge advocates for early detection through regular memory screenings, which they perform as a complimentary service to the community for those with memory concerns.
Stedman Clinical Trials partners with virtually every pharmaceutical company involved in Alzheimer's research. These partnerships allow them to offer their participants a broad study selection, in an effort to meet the needs of as many patients as possible.
Mary Stedman, M.D.
Dr. Stedman holds her M.D. from USF, and her degree in pharmacy from the University of Florida; this combined education experience gives her more in-depth pharmacological insights and a better understanding of drug
mechanisms. Taking her clinical research experience and combining it with her extensive pharmaceutical knowledge, she has developed one of the region's most respected clinical research sites.
If you or someone you know is interested in participating in a trial, Stedman Clinical Trials has ongoing studies that are class specific, meaning they cover cognitive decline, early Alzheimer's up to advanced Alzheimer's diagnosis. To find out if you are eligible, please contact them directly, or take their survey online. Additionally, Stedman Clinical Trials offers several studies based on various other health conditions.
To find out more please call 813-971-8311, or visit StedmanClinical.com
14506 University Point Place
Tampa, FL, 33613