Courtesy of Florida Medical Clinic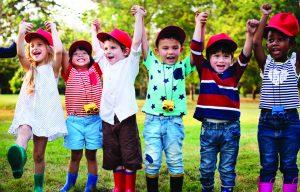 There are over 300,000 children with Juvenile arthritis, which is an umbrella term for multiple autoimmune disorders that affect infants to young adults.  The most common form of the disease is Juvenile idiopathic arthritis.
Common Symptoms are varied due to so many disorders encompassed under the name "Juvenile Arthritis;" however, many of them are similar symptoms associated with most autoimmune disorders.  The most common are the following:
• Pain and swelling in joints
• Warmth or redness to joints
• Fatigue
• Lethargy
• Chronic illness or viruses
• Fever
• Rashes
• Stiff muscles and mobility
• Swollen lymph nodes
• Insomnia
• Overall pain
• Flu-like symptoms
• Reduced appetite
• Favoring one limb
According to the Arthritis Foundation, these are the Types of Juvenile Arthritis along with their indicators:
• Juvenile idiopathic arthritis (JIA) – Considered the most common form of arthritis, JIA includes six subtypes: oligoarthritis, polyarthritis, systemic, enthesitis-related, juvenile psoriatic arthritis or undifferentiated.
• Juvenile dermatomyositis – An inflammatory disease, juvenile dermatomyositis causes muscle weakness and a skin rash on the eyelids and knuckles.
• Juvenile lupus – Lupus is an autoimmune disease. The most common form is systemic lupus erythematosus, or SLE. Lupus can affect the joints, skin, kidneys, blood and other areas of the body.
• Juvenile scleroderma – Scleroderma, which literally means "hard skin," describes a group of conditions that causes the skin to tighten and harden.
• Kawasaki disease – This disease causes blood-vessel inflammation that can lead to heart complications.
• Mixed connective tissue disease – This disease may include features of arthritis, lupus dermatomyositis and scleroderma, and is associated with very high levels of a particular antinuclear antibody called anti-RNP.
• Fibromyalgia – This chronic pain syndrome is an arthritis-related condition, which can cause stiffness and aching, along with fatigue, disrupted sleep and other symptoms. More common in girls, fibromyalgia is seldom diagnosed before puberty.
Like all autoimmune disorders, juvenile arthritis can be challenging to diagnose.  The experienced rheumatologists of Florida Medical Clinic will work with your and your child to incorporate diagnostic evaluations and testing to better understand their disorder and treatment protocol.
The earlier your child is diagnosed and treated, the better their outcomes will be for controlling the disease and to alleviate the risk of future comorbidities.  With aggressive treatment, remission is a valid possibility.  With juvenile arthritis, seeking expert attention and care is critical.  If your child is experiencing any symptoms of this disorder, please contact Florida Medical Clinic today.
Florida Medical Clinic, A Leader in Comprehensive Health Care
At Florida Medical Clinic, your health and wellbeing is their specialty. Their team of compassionate, experienced physicians offers a comprehensive range of healthcare services, including expert Rheumatologists.
By specializing in everything from family practice and internal medicine services to cardiology, gastroenterology, sports medicine, plastic surgery, and beyond, all within a single, clinically integrated network, their team streamlines every aspect of your healthcare. There's only one name you'll need to remember for all of your medical needs: Florida Medical Clinic.
Their team of physicians treats patients of all ages, from infants to seniors. In addition to emphasizing preventive care to help their patients stay healthy, their primary care services include physical exams, urgent care appointments for non-life-threatening injuries and illnesses, cancer screenings, minor surgical procedures, routine gynecology and dermatology services, and ongoing management of chronic conditions such as scleroderma, diabetes, osteoporosis and arthritis.
Florida Medical Clinic's Rheumatology Experts:
Alicia Fierro, D.O.
Board-Certified Rheumatologist Special Interests
• Lupus
• Osteoporosis
• Pregnancy and rheumatic disease
• Rheumatoid Arthritis
• Scleroderma
Board Certifications
• American Board of Internal Medicine
• American Board of Rheumatology
David Rivera, M.D.
Board-Certified Rheumatologist (el habla español)
Special Interests
• Scleroderma
• Rheumatoid Arthritis
• Psoriatic Arthritis
Board Certifications
• American Board of Internal Medicine
• Internal Medicine
• American Board of Rheumatology
Florida Medical Clinic offers, expedient appointment scheduling, short wait times, a caring and responsive staff, and for your convenience, labs and imaging are available in the office.
To schedule your appointment today, please call 813-782-1234.