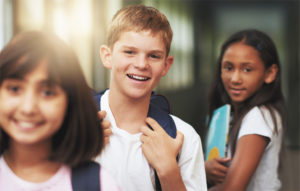 With August here, school will be starting in just a few short weeks. In fact, football practice has been in full swing since July. Protecting your kid entails many different aspects, but unfortunately, you can't always control when things go wrong such as injuries, accidents, viruses, or infections.
Immunizations & Viral Infections
Getting your kids vaccinated before they head back into the classroom is critical, and it's easy with Quick Care Med Walk-In Clinic & Urgent Care, since they have all of the vaccinations necessary to keep your kids safe and protected. It's best to get these immunizations before school starts.
Although some viruses are out there lurking around the corner, most teens have been vaccinated from daunting diseases like measles and rubella, but there are others that you need to be aware of that could potentially infect your child. For example, staph infection, MRSA, and impetigo are all communicable forms of viral infections. And the most common of all is Chicken Pox (Varicella), which is pretty much inevitable. If your child hasn't gotten Varicella yet, there is a much higher risk of an adverse infection and a prolonged infection. To make your kid more comfortable and to lessen the downtime, a physician treats chicken pox and other viral infections with anti-viral medications and topical medicated ointments.
Physicals
School physicals for various sports and activities are also super convenient at Quick Care. You can come to the clinic on your own time. The summer is meant to be enjoyed, not waiting around at the doctor's office, so bring your children in to get their physicals when it's best for you.
Heatstroke
The hot weather is pretty much year round for us here in Florida, but it's particularly hot for kids that play sports anywhere from August through December and then again in the spring. Making sure your child stays adequately hydrated is critical to their safety.
The biggest threat when trying to exercise in warm weather is the increased risk factor of having heatstroke.
Sports and PE class Injuries
Stretching is vital to prevent injuries during sports. Kids should be adequately warmed up before stretching, as stretching "cold" muscles can cause tears and ruptures.
Fungal Infections
In addition to viral infections, your teen is vulnerable to fungal skin cross-contamination. If they come into contact with dirty towels, clothing, sports equipment, cell phones, or even hard surfaces, some infections pass from one person to the next very easily. A good example of this is ringworm. Contrary to its name, ringworm is not caused by a parasite, but rather by fungus. It gets its name from the predictable red rings that it produces. It usually appears on the lower part of the body or abdomen, but can occur anywhere, even on the scalp. Ringworm is highly contagious and can also infect your pets. It causes a great deal of discomfort, including intolerable itching.
Quick Care Med Urgent Care Vs.
Emergency Room
If your health needs are not emergent like a heart condition or other impending life-saving issues, the benefit of urgent care in comparison are numerous. To name a few, the wait time will be much shorter. For the most part, urgent care can see their patients within an hour. The cost is also much less with urgent care than it is with emergency room treatment. Quick Care Med urgent care provides you with the proper paperwork to follow up with your primary care physician or specialist, as urgent care takes initiatives to keep the line of communication open to make certain that your treatment is a top priority.
There are numerous reasons people go to urgent care, from sore throats, skin infections, school sports physicals, vaccinations, colds and flu, sprains, heat exhaustion, animal bites, dehydration, broken bones and much more. Before you go to the ER, consider if you could instead be treated at urgent care because of the numerous benefits to you and your loved ones.
Quick Care Med Walk-In Clinic & Urgent Care is a comprehensive urgent care clinic with multiple specialties to serve you. Quick Care Med has locations in Marion (Dunnellon and Ocala), Citrus (Crystal River, Inverness, Beverly Hills, and Homosassa), Levy (Williston), & Alachua (Newberry) counties that provides immediate walk-in treatment to pediatric and adult patients for illnesses and injuries, wellness exams, and employer health services.
At Quick Care Med, they understand that illness and injuries can happen outside of the normal 9 to 5. That's why they provide Fast, Easy, and Affordable® urgent care with the convenience of extended hours, including weekends and holidays!
From the common cold to a broken bone, Quick Care Med Walk-in and Urgent Care revolves around getting you back to feeling good!
3 Locations in Ocala
3415 E. Silver Springs Blvd, Ocala, FL 34470
(On Silver Springs Blvd. across from Publix)
8119 SW State Rd 200, Ocala, FL 3448
(Just past Walgreens)
6341 N US 441, Ocala, FL 34475
(Across from John Deer)
Quick Care Med
Walk-In Clinic & Urgent Care
844-797-8425
www.quickcaremed.com