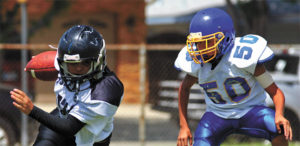 With August here school will be starting in just a few short weeks. In fact, football practice has been in full swing since July. Protecting your kid entails many different aspects, but unfortunately, you can't always control when things go wrong, accidents take place, or illness strikes.
Keeping Teenagers Safe in the Heat
The hot weather is pretty much year round for us here in Florida, but it's especially hot for kids that play sports anywhere from August through December and then again in the spring. Making sure your child stays adequately hydrated is critical to their safety. The biggest threat when trying to exercise in warm weather is the increased risk factor of having a heatstroke.
Heatstroke symptoms:
• Increased heart rate
• Dizziness
• Fainting
• Fatigue
• Headache
• Heart palpitations
• Muscle cramping
• Nausea
• Edema or swelling limbs
• Unconsciousness
• Death
Sports and PE class Injuries
Stretching is important to prevent injuries during sports. Teenagers should be properly warmed up before stretching, as stretching "cold" muscles can cause tears and ruptures.

Bacterial & Viral Infections:
Although some viruses are out there lurking around the corner, most teens have been vaccinated from daunting diseases like measles and rubella, but there are others that you need to be aware of that could potentially infect your child. For example, staph infections, and impetigo are all communicable forms of bacterial infections. And the most common of all is Chicken Pox (Varicella), which is pretty much inevitable. If your teenager hasn't gotten Varicella yet, there is a much higher risk of an adverse infection and a prolonged infection. To make your child more comfortable and to lessen the downtime, a physician treats chicken pox and other viral infections with anti-viral medications and topical medicated ointments.
Fungal Infections:
In addition to viral infections, your teen is vulnerable to fungal skin cross-contamination. If they come into contact with dirty towels, clothing, sports equipment, cell phones, or even hard surfaces, some infections pass from one person to the next very easily.
A good example of this is ringworm. Contrary to its name, ringworm is not caused by a parasite, but rather by fungus. It gets its name from the predictable red rings that it produces. It usually appears on the lower part of the body or abdomen, but can occur anywhere, even on the scalp. Ringworm is highly contagious and can even infect your pets. It causes a great deal of discomfort, including intolerable itching.
OHC Urgent Care
With careful planning, you can help prevent your child's injuries and illnesses in most situations, but when they do need medical attention OHC Urgent Care is open extended hours 7 days a week. The team at OHC Urgent Care's mission is to provide you with high-quality medical services and compassionate care. They will coordinate your visit with your primary care physician. OHC Urgent Care treats children ages 16 to adults.
Hours of Operation
Monday to Friday from 8AM to 8PM
Saturday and Sunday from 8AM to 5PM
OHC Urgent Care
1714 SW 17th St, Ocala, FL 34471
352.274-9900 | GoToOcalaUrgentCare.com