Christopher Manseau M.D.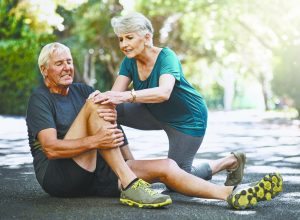 Before jumping into anything more complex, a conservative approach to injuries and disorders are typically the standard moderate method to ease pain from disease or trauma; but with the knee, the intricate blood supply to the tissues can make it challenging for the body to heal itself naturally.  That's why surgical procedures are often imperative to alleviate your pain and discomfort.
A meniscus tear is a good example of an injury where recommending a conservative approach is usually the first step many people undertake.  Unfortunately, this is a common injury that can cause tremendous pain and swelling in the knee. Although the RICE method (Rest, Ice, Compression, Elevate) and pain relievers might seem to ease pain initially, it seldom works long-term.
Symptoms, Diagnosis and Surgical Treatment
Whether its due to an acute injury or degenerative disease (usually arthritis related), swelling and pain in the knee are common symptoms and can be accompanied by sensations of clicking, locking, popping, catching, and occasionally even giving way.
After a thorough evaluation with appropriate images (X-ray/MRI), Dr. Manseau talks with his patients about whether or not he feels they need to have surgery. Surgical intervention often poses the best solution to alleviate patients of their pain and to restore knee joint function. Dr. Manseau utilizes a computer aided highly regarded technique called, MAKOplasty® knee replacement technology.  MAKOplasty® is a surgical procedure for partial knee or total knee arthroplasty using an interactive robotic orthopedic system.
The Benefits of Robotic Surgery
• Quicker recovery times
• Shorter hospital stay
• Minimal scarring
• Minimal discomfort
• Proven results
• Advanced outcomes
The robotic device consists of several arms that are for surgical instruments, and the some that are for the camera that is multi-magnified compared to traditional laparoscopic cameras.  The surgeon is in the operating room right next to the patient, controlling the movements of the arms from a console.  During the surgery, the surgical movements are precise and meticulously measured.
Total vs. Partial Knee Replacement: The condition of the knee will show whether or not the patient needs a total or partial knee replacement. There are three compartments of the knee, and depending on which compartment is affected, will determine which procedure a patient should have.
• Medial (inside of knee)
• Lateral (outside of knee)
• Patellofemoral (Front of knee)
Usually if there is long-term arthritic damage, or if two or more compartments are damaged, a total knee replacement is recommended.
With the proper diagnosis, treatment, rehabilitation and home care most people can return to their pre-
injury range of motion and daily lifestyle activities within a few weeks or months depending on the severity of the injury.
Orthopedic Specialty Care
Orthopaedic Specialty Care (OSC) provides comprehensive surgical and nonsurgical solutions to the full range of orthopedic issues confronting all ages.
Christopher Manseau M.D.
Fellowship Trained
Board Certified Orthopaedic Surgeon
Fellow American Academy of Orthopaedic Surgeons
Orthopedic Specialty Care
Orthopaedic Specialty Care (OSC) provides comprehensive surgical and nonsurgical solutions to the full range of orthopedic issues confronting all ages.
Dr. Christopher Manseau and his support staff develop and implement individual care programs combining advanced surgical techniques to ensure optimal success. Arthroscopic and other minimally- invasive techniques are also employed as appropriate.
Dr. Manseau has practiced in North Central Florida since 1997. He established OSC in 2006 to further his desire to provide the ultimate in personalized orthopedic care, with special emphasis on the individual needs of his patients. He is board certified in orthopedic surgery; a fellow in upper extremity reconstruction, and a recognized sports injury and total joint expert.
To schedule your consultation, please call (352) 624-0004.
352.624.0004  |  www.oscllc.net