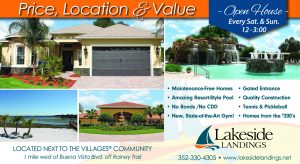 June is Home Safety Awareness Month.  Not only does home safety revolve around security, but it also has great deal to with quality construction, well laid plans, reliable neighbors, and convenience.
Lakeside Landings offers safety and so much more for its residents.
• Maintenance Free
• Resort Style Amenities
• No Bonds/No CDD
• Gated Entrance
• Top Quality Construction
• Onsite Activities: Tennis and Pickleball
• Starting in the 200's
With beautiful homes, peaceful surroundings and contemporary amenities, to maintenance-free living, it's no wonder why more and more people are calling Lakeside Landings their hometown.
Residents enjoy a massive pool, equipped with waterfalls, along with walking paths, tennis, and a state-of-the-art clubhouse; Lakeside Landings has you covered.  Meet up at the cabana once a month for drinks and a time to mingle with neighbors, connect through various social clubs, or get in on the action and join the weekly poker or bridge games.  Whatever your lifestyle choice, you will not be disenchanted in this well thought out community.
The Enclave has luxury homes ranging from 1300 to over 3,000 square feet, and the most innovative amenities in The Villages.  You can take your glorious sunrise jog, drive the ball 300 yards, meet your friends for a relaxing lunch, or take your golf cart to dinner, why?  Because in Lakeside Landings everything is complete and highly thought out for your convenience.
Lakeside Landings residents live out their dreams, one day at a time in the warmth and comfort of a safe and social atmosphere.  Come and find out why so many people love to call Lakeside Landings home.
Lakeside Landings has an Open House every Saturday and Sunday from 12:00 to 3:00 pm.  Stop by, or call today to schedule your model home tour at 352-330-4305.
10299 Hawks Gully Ct.  |  Oxford, FL 34484
Tel: 352.330.4305   |  Fax: 352.330.4309  |  www.lakesidelandings.net