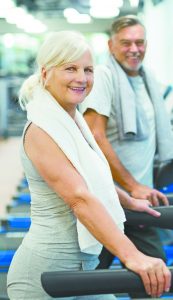 The statistics show that only 8% of people actually achieve their resolution goals. Why is it that after a certain, ahem, age, we can't seem to lose the weight or maintain the weight loss that we may have had in the past?
The answer is simple, yet very frustrating. We need more than just exercise alone; we need a professional fitness plan that includes accountability, exercising regularly and efficiently for our body types, along with a healthy diet.
24/7 Fitness has a plan for you that you are sure to stick with on a regular basis. Why? Simply put, the convenience helps you to meet your goals. Once you start seeing the results of your new exercise routine, you'll be more inclined to stick with the plan.
We've heard it a thousand times—Every Person is Different—but it's true! A "one-size fits all" weight loss strategy will never work for everyone; plans must be customized to treat your weight gain head-on.
24/7 Fitness has 24-hour access, so you can literally go to the gym when it's most convenient for you. You'll never have to worry about the gym being overcrowded, and 24/7 Fitness' staff takes great pride in helping you to stay inspired to get healthy and to keep moving.
Because they are dedicated to helping you be your healthiest, they offer a free insurance paid membership through Silver Sneakers, Optum & Silver & Fit. Unlike other 24-hour gyms, 24/7 Fitness does not charge for a key or access fees.
With state-of-the-art equipment, machines and free classes, 24/7 Fitness has what you need to get in shape. They also offer elite personal trainers to evaluate and tweak your workouts to get you the best outcome.
It's not just about weight—It's about Your Health
When you're exercising and losing weight; many health advantages coincide with your efforts.
• Increases blood flow
• Build's muscle
• Alleviates tightness in muscles
• Relieves stress
• Reduces anxiety levels
• Lowers cholesterol levels
• Relieves undue stress on joints
• Improves balance
• Reduces osteoarthritis pain
• Lowers blood pressure
• Improves circulation
• Improves vascular resilience
• Promotes relaxation
• Increases oxygen
For a plan customized just for you, please visit 24/7 Fitness. They have helped countless individuals achieve their goals and you SHOULD be next.
24/7 Fitness
9819-9823 Hwy 301, Wildwood, FL 34785
352.399.2014 | www.247fitness-center.com