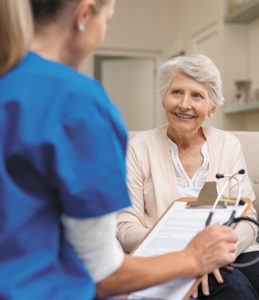 According to the American Cancer Society, there are an estimated 16 million cancer survivors in the U.S. today. If you are a survivor, you have come a long way since you were first diagnosed. With the help of your oncology team, your family and even your employer, there is a lot of promise in the coming years. Your life after cancer offers the prospect of years of good health, rewarding work and a happy and fulfilling future.
While the end of successful cancer treatment is a time for celebration, it can also mean new challenges for survivors. Milestones such as returning to work, managing emotional issues and the ongoing physical effects of cancer and treatment can also present unanticipated changes for both patients, as well as their families. The key to returning to a normal life after cancer treatment may be found in establishing new habits of diet and exercise or learning to cope with a range of emotional and physical challenges.
Nutrition and Exercise
Cancer survivors typically should turn first to their care team for information and advice about nutrition, physical activity and dietary supplements to improve quality of life and long-term survival. In times past, doctors often advised patients to rest and reduce physical activity to avoid fatigue associated with cancer and treatment. If patients experience pain, shortness of breath or rapid heart rate, this is good advice. However, recent research indicates that exercise during and after treatment can be safe and beneficial. Your cancer team is the best resource for beginning or resuming a more active post-cancer lifestyle and they can refer patients and family caregivers to other professionals for a personalized post-treatment plan.
Physical and Emotional Challenges
The aftereffects of chemotherapy, surgery or radiation therapy should not be underestimated. Pain, fatigue and nausea are not unusual. More serious conditions include anemia, lymphedema (a buildup of fluid in fatty tissues just beneath the skin) and even severe infections. For both men and women, cancer and cancer treatment can cause changes in fertility and side effects in sexuality. Your oncology team is trained to monitor and manage the short- and long-term effects of treatment, so it is important to discuss your concerns with your team and follow their instructions.
Thanks to improved screenings and treatment options, today, many patients can look forward to many healthy and productive years after being diagnosed with cancer.
The emotional side of cancer survivorship touches both patients and their families. The stress associated with a cancer diagnosis and the physical effects of treatment are often still fresh in memory. Survivors and their families can feel a complicated mixture of relief and worry about the future. Some people suffer episodes of anxiety and even depression. All these are matters to discuss with your oncology team, who can help you achieve balance or refer you to another appropriate professional, if needed.
Healthcare After Cancer
In the rush to put cancer in the past, it is important to remember that the end of treatment doesn't mean the end of seeing your cancer team. Most often, long-
term follow-up appointments and tests, followed by routine checkups and health screenings, will continue for many years. It is important to keep your follow-up appointments and undergo tests and screenings as recommended by your oncologist. While there is no absolute certainty that seeing your oncologist will prevent cancer from returning, it will help make sure that any recurrence is detected and treated early.
World-Class Cancer Treatment Close to Home
Florida Cancer Specialists & Research Institute (FCS) has put together a network of expert, board-certified physicians who bring world-class cancer treatments to local communities, both large and small, across the state. With nearly 100 locations, FCS is the largest independent oncology/ hematology group in the United States. That status puts the practice on the leading edge of clinical trial research and gives FCS physicians access to the newest, most innovative treatments.
Florida Cancer Specialists treats patients with all types of cancer, and offers a number of services, such as an in-house specialty pharmacy, an in-house pathology lab and financial counselors at every location, that deliver the most advanced and personalized care in your local community.
Florida Cancer Specialists
Ocala
1630 SE 18th St.
Suite 602
Ocala, FL 34471
Ocala
2820 SE 3rd Court,
Suite 200
Ocala, Florida 32674
Ocala West
4600 SW 46th Court
Building 200, Suite 330
Ocala, FL 34474
For more information, visit FLCancer.com