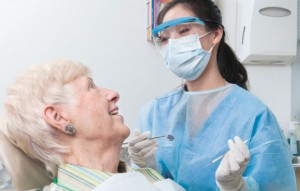 Village Dental, a full-service dental practice, has received a Sunshine State Safety Recognition Award from USF SafetyFlorida. Developed by the State of Florida's OSHA consultation program, USF SafetyFlorida presents the award to businesses whose efforts and practices demonstrate successful workplace safety protocols.
The award was designed to distinguish employers utilizing effective safety and health management systems and encouraging their managers and employees to continually implement and improve workplace safety-related performance.
Considered businesses must be able to exhibit specific safety commitments during a USF SafetyFlorida on-site consultation. Stated Program Manager, Charlene D. Vespi, "Village Dental has been recognized by USF SafetyFlorida for its effort in implementing and maintaining an effective injury and illness prevention program/process…and for setting high standards…in the occupational safety and health of its workplace."
"Village Dental and its dentists and staff are honored by the Sunshine State Safety Award," says Dr. Edward J. Farrell. "We pride ourselves on creating a safe, sanitary environment for both our workers and our patients, and consider the recognition a genuine mark of distinction."
Below are just a few of the patient safety practices and precautions, which patients may not be aware of, in place at Village Dental office:
All dentists and staff members make it priority to use appropriate barrier precautions to prevent skin and mucous-membrane exposure when in contact with patients.
Gloves are worn at all times and changed after contact with each patient.
Masks and protective eyewear are also worn during procedures that expose any type of bodily fluid.
Hands and other skin surfaces are washed immediately and thoroughly after contact with each patient and each time gloves are removed.
Precautions to prevent injuries caused by needles, scalpels, and other sharp instruments or devices during procedures; when handling, cleaning and disposing instruments.
All equipment and surfaces that have the chance of being contaminated with bodily fluids are disinfected after each use.
Equipment pieces that are difficult to disinfect are covered. The covering is removed and replaced with a clean covering after use with each patient.
A patient should never worry about the cleanliness and safety of the office they are seeking care at. The entire staff at Village Dental takes pride and responsibility in ensuring the safety of every patient that presents to the office for dental care of any kind. Rest assured that you are in good hands when being treated at Village Dental.
About Village Dental
Village Dental is a full-service dental practice with two offices serving The Villages, Florida. The firm has 3 dentists on staff and more than 25 staff members dedicated to personal patient care. Village Dental has devoted over a decade to all disciplines of general and advanced dentistry, including implantology, periodontology, TMJ treatment, cosmetic services and more.
About USF SafetyFlorida
USF SafetyFlorida is a workplace safety consultation program for Florida's small businesses. It is funded by OSHA and the State of Florida and is operated as a service of the University of South Florida's College of Public Health. The program helps employers develop a safer workplace, identifies workplace hazards, offers solutions for safety and health problems, provides training and education, and assists in creating safety and health management plans.
Village Dental
352-205-7667 or 352-753-7507