Heavy, long-term smokers are at increased risk of developing lung cancer, the leading cause of cancer death in the US. Lung cancer typically produces no symptoms at first. By the time indications such as chronic cough, hoarseness, shortness of breath, unexplained weight loss, bloody sputum or phlegm show up, cancer has usually spread outside the lung, where it is most often impossible to treat.
Luckily, provided it is caught before symptoms occur, lung cancer is highly treatable, making regular screening an important tool in saving lives.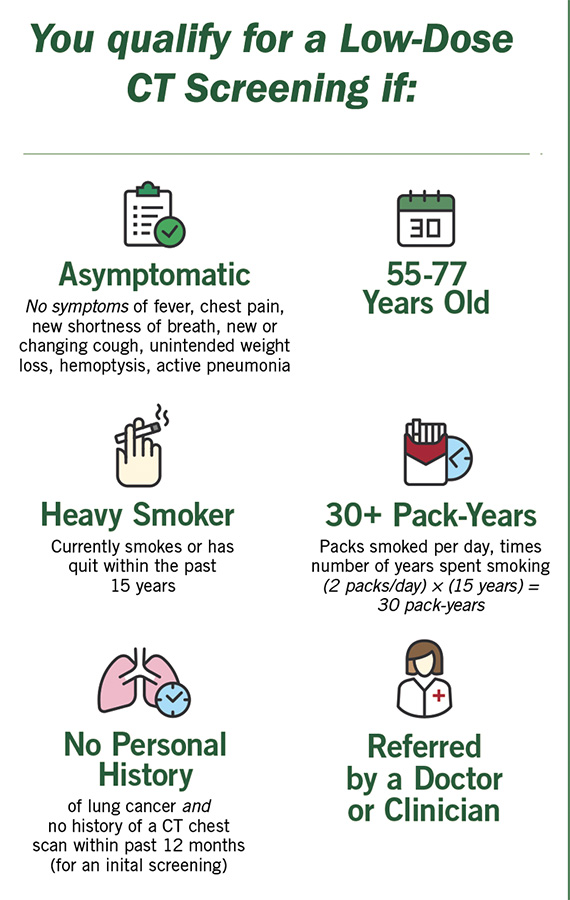 What's the difference between screening and diagnostic testing?
Diagnostic testing is performed when there is evidence of disease and a diagnosis is needed. Screening is a preemptive measure used to catch disease before symptoms appear, when disease is most easily treated. Low Dose Computed Tomography, or LDCT, is a painless, noninvasive lung cancer screening used to catch lung cancer in its earliest stages, using 90% less ionizing radiation than a standard CT diagnostic scan, and enabling your doctor to treat disease before it spreads.
Who should get LDCT screening?
The preventative medicine experts of the United States Preventive Services Task Force recommend annual LDCT screening for people meeting the following criteria:
. Aged 55-80 years old
. Heavy smoker – Currently smokes or quit within the past 15 years
. Has reached 30 pack years – smoked 1 pack a day x 30 years; 2 packs a day x 15 years, etc.
. Has no symptoms or history of lung cancer
. Has not had a chest CT in the past 12 months
I meet the criteria – now what?
Simple – talk to your doctor or clinician right away. Let him or her know you might be a candidate and ask about the risks and rewards of early cancer detection using LDCT screening. It is a quick, painless test that could very well save your life.
If you are not eligible, you may still benefit from a Chest CT, which reveals detailed images of the lungs.
Radiology Associates
(352) 671-4300
www.RAOcala.com