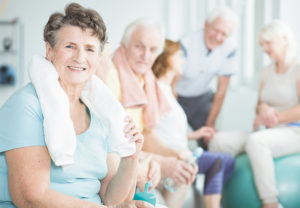 If you've been sick and stayed in bed a few days you probably felt much weaker when initially returning to your daily routine. That is because inactivity causes a loss of muscle mass and function in men/women of ALL ages. Any joint or muscle that is not used regularly will lose part of its function. It has been shown that muscle loss can occur in as quick as 24 hours and within 7 days of immobility there is a 3% loss in muscle mass within the thigh muscles. Movement is important!
Benefits of Movement:
• Maintain ease of physical movement:
With inactivity movement typically becomes more difficult, heavier, weaker, and stiffer and is accompanied with pain and discomfort. Lack of movement leads to tightening muscles, tendons and ligaments leaving joints feeling stiff and uncomfortable.
• Mood and Stress reduction:
Endorphins are released during physical activity. They create a natural feeling of wellbeing and decreasing feelings of stress.
• Sleep:
Movement promotes better sleep patterns. Individuals who are active have an easier time falling asleep compared to those who are sedentary.
• Energy:
Daily movement helps to combat fatigue and improve energy levels. Sedentary individuals who begin to participate in regular movement reported increased energy levels and decreased fatigue!
• Health:
Improved cardiovascular health. Your heart is made up of muscular tissue and strengthens with activity like other muscles in your body. Movement also improves bone density, digestion and immune function. It also aids in the prevention of chronic disease.
As you can see daily movement is important no matter who you are! No matter what your age or your activity level any movement counts. Amount and intensity varies for each individual. Physical therapists can help in the prescription of specific exercise for patients having difficulty with movement following injury, surgery or disease.
So stop the excuses and move it or lose it!
**Don't forget the time change on Sunday, November 4, 2018. We "Fall" back and gain an hour! Use that hour to be active! Your body will thank you for it!
We here at Life Care of Ocala are here to improve the health of the community for which we serve. As part of this vision, we provide a team of highly skilled Physical, Occupational, and Speech Therapists and the latest in cutting edge rehabilitation technology such as the AlterG anti-gravity treadmill and the Biodex balance system to help you regain your independence and facilitate you reaching your personalized goals.
Please call Life Care Center of Ocala today at (352) 873-7570 if you have any questions or think we can help you maintain your functional independence.
352.873.7570 | 2800 SW 41st St. | Ocala, FL 34474 | www.LifeCareCenterOfOcala.com
**References:
University of Copenhagen article "Inactivity reduces muscle strength" Gram, Hansen Ph.D.
"Movement" from www.ndhealthfacts.org/wiki/movement
Article "Deconditioning: the consequence of bedrest." Campbell, ARNP