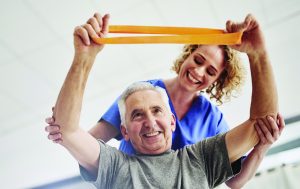 Happy national occupational therapy month! This month is used to recognize those who spend their lives working to improve yours.  Occupational therapists provide hands on rehabilitation to help patients after illness or injury, or patients with disabilities improve their ability to move and function in daily life.
One of the biggest questions therapists receive is what is the difference between Occupational and Physical Therapy?
Physical Therapists treat patients of all ages focusing on evaluation and diagnosis of movement dysfunctions as well as treating a specific injury. Physical therapists are focused on improving function.
Occupational therapists also help people of all ages who have disability or an illness. They help people to fully engage in their daily lives from their work and recreations to activities of daily living like cooking, eating, driving and getting dressed.  They also have training to work with patients who have mental illness or emotional problems.
Occupational therapists want to know. "What matters most to you?"  From the American occupational therapy association, "occupational therapists and occupational therapy assistants help people across their lifespan participate in the things they want and need to do through the therapeutic use of everyday activities (occupations)".
There are also new specialties in the occupational therapy field like training workers how to correctly use ergonomics, helping patients with low vision maintain their independence, making homes and buildings more accessible, and promoting health and wellness.  Another specialty that we offer here at Life Care Center of Ocala is vestibular rehabilitation. Our outpatient occupational therapist is specially trained to assist in Vestibular/balance recovery.
This month we want to take the time to recognize these occupational therapists who work every day to help our patients and community.  If you have ever been to occupational therapy or know someone who has take the time this month to thank an OT!
Life Care Center of Ocala
Not all skilled nursing and rehab centers are the same, and that's certainly true of the Life Care Center of Ocala.  Along with state-of-the-art medical care, Life Care Center of Ocala offers homelike amenities with added luxuries, such as a beauty salon, ice cream parlor, restaurant style dining and 24-hour security all within a serene environment. Private rooms and suites are also available, as well as a number of indoor and outdoor areas for residents and patients to host family visits.
To find out more about Life Care of Ocala, or to book a personalized tour, please call (352) 873-7570, or visit their website at www.LifeCareCenterOfOcala.com to view their services and to peruse their newsletter to find out what other residents have to say about living at Life Care.
352.873.7570 | 2800 SW 41st St. | Ocala, FL 34474 | www.LifeCareCenterOfOcala.com