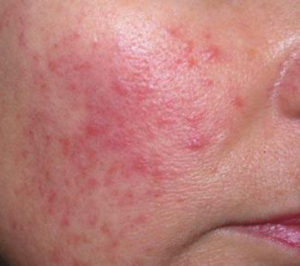 Rosacea affects nearly 3 million people in the United States each year. It is an incurable, yet common condition that causes redness, which are usually on the cheeks and nose. These tiny red bumps look like a rash and can sometimes be pus-filled. There are several treatment options that can significantly reduce rosacea.
Because rosacea can be mistaken for other skin disorders like rashes or acne, a proper medical diagnosis is necessary to receive the appropriate treatment. If rosacea is left untreated, it will most likely become advanced and worsen with time.
Causes of Rosacea
Rosacea happens when the tiny blood vessels in your face dilate beyond their normal limit. The reason for the dilation isn't certain, but there are many potential causes, including:
• Follicle irritation
• Demodex (tiny skin mites)
• Sun damage to deeper layers of connective tissues beneath your skin
• Excess H. pylori bacteria in your body
Regardless of the cause of your rosacea, there are often triggers that can help you predict an outbreak.
Common triggers that might cause rosacea include:
• Consumption of hot foods and beverages as well as alcohol
• Caffeine consumption
• Consumption of spicy foods and dairy products
• Exposure to direct sunlight as well as very hot or cold temperatures
• Stress or anxiety
How is rosacea treated?
Dr. Freeman will create a personalized treatment plan for your rosacea. This may include medications such as:
• Topical medications: creams or gels that you rub over your face each day, which can greatly reduce redness and help improve your comfort
• Oral medications: including antibiotics like tetracycline or anti-acne drugs like Accutane®
• Laser treatment: laser light forces the dilated blood vessels in your face to shrink to their normal size; the treatment is minimally invasive but may cause some brief side effects like swelling and soreness as the rosacea dissipates
Treatment is usually combined with recommended lifestyle adjustments to help you get rosacea under control, such as:
• Avoiding alcohol
• Using non-comedogenic facial care products
• Avoiding any known triggers
Laser Treatment—IPL
In combination with other traditional therapeutics, laser treatment is one of the most beneficial therapies for rosacea, but it also helps with other conditions as well. If you've noticed that your skin is starting to look dull, red, blotchy, inflamed, has noticeable red veins or acne, IPL (Intense Pulse Light) is the answer you've been longing for.
IPL Treats the Following:
• Hyperpigmentation
• Broken Capillaries or blood vessels
• Acne
• Acne Scars
• Reduces Pore Size
• Rosacea
• Unwanted Hair
• Freckles
• Dull Skin
For healthy skin, your options are endless. Dr. Michael J. Freeman's Dermatology Practice takes your skin's health seriously from screenings, medical treatments, advanced skin care, cutting-edge technology, laser therapy, injectable therapies, body treatments to chemical peels and more, they've got you covered.
Michael J. Freeman, M.D., PA
Dr. Michael J. Freeman is a dermatology practice serving patients in Ocala, Florida and The Villages, Florida. Dr. Michael J. Freeman, David Kosiorek, PA-C, Dave Runyon, PA-C, and Sue Schmeltz, PA-C are all firmly dedicated to giving patients the best in care for conditions including squamous cell carcinoma, psoriasis, melanoma, rosacea, and many others. The Michael J. Freeman, MD, PA team believes that every patient deserves to have the healthiest and most beautiful skin. They work hard to help you achieve that through evidence-based therapeutics and the latest in dermatology technology and equipment.
The atmosphere at the Ocala and The Villages offices is designed to be calm, serene, and welcoming. The patients at Michael J. Freeman, MD, PA deserve to feel comfortable while they seek treatment for conditions like acne, eczema, rosacea, skin cancer, and rashes. Appointments can be conveniently scheduled through calling the office or through the easy-to-use online appointment maker.
Dr. Freeman and his associates offer comprehensive dermatologic care including full body skin checks, medical dermatology care, and cosmetic treatments in three convenient locations through Ocala, FL.
Call today to schedule your appointment.
Michael J. Freeman, M.D., PA
www.docfreeman.com
352-732-7779
2750 S. E. 17th St., Ocala, FL 34471
352-732-7779
8750 S.W. State Rd. 200, Suite #102, Ocala , FL 34481
352-750-6946
13690 US-441 North, Suite 300 & 400, The Villages, FL 32159