Dr. Vahora, MD, FACOG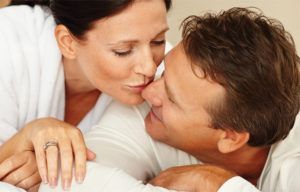 Do you have pain with intercourse? Do you find that lubricants are no longer helping and that your sex life is not as enjoyable as it once was? Dyspareunia (painful sex) is a symptom of vulvar and vaginal atrophy (VVA). Whether the menopause was brought on naturally by aging, or surgically, it is quite common for women to experience painful intercourse during this time in their lives. A fairly new term, genitourinary syndrome of menopause (GSM) better explains the overall dysfunction of the urinary and genital tissues as women undergo menopausal symptoms.
Genitourinary Syndrome of Menopause & VVA
When the regularity of a woman's periods cease, the estrogen receptors decrease along with estradiol in the uterine lining, which disrupts the thickness and lubrication of the tissues. Why is this significant? Estrogen increases gland secretion and blood flow to the urogenital tissues, so when our estrogen is limited or obsolete, it leads to vaginal dryness, pain, PH imbalance and urinary changes like incontinence to name a few.
Due to the limited estrogen supply, the walls of the vagina start to thin out, causing dryness, burning, and inflammation. This can make intercourse very painful and can cause urinary disorders and can even interfere with daily activities for many women due to the extreme pain and discomfort that it can cause. This disorder is specifically known as vaginal and vulvar atrophy.
Your Treatment Options
Most women think that it's just a normal part of the hormonal process, but there are many options to relieve vaginal and vulvar atrophy by restoring your vaginal tissues and alleviating your pain. Finding the right treatment for you is what Dr. Parveen Vahora specializes in. She helps women by looking at the whole person and diagnosing the cause when administering highly acclaimed treatments, not merely their symptoms.
Estrogen Therapy
If you are experiencing moderate to severe menopausal symptoms, Dr. Vahora may suggest estrogen pills, creams, gels or transdermal patches, which will increase estrogen production in the uterus. If you no longer have a uterus, you might respond better to a stronger, time-released dose of estrogen via an inserted vaginal ring or other non-estrogen related products.
Non-Estrogen Management
Osphena® is the only FDA-approved oral pill for the treatment of moderate to severe dyspareunia (painful sex), a symptom of vulvar and vaginal atrophy (VVA), due to menopause. It's not an estrogen, but it works like one to help improve specific vaginal tissue* and help relieve moderate to severe painful sex due to menopause. *Increases superficial cells, decreases parabasal cells (these are two types of vaginal cells) and reduces vaginal pH.1
INTRAROSA is a steroid treatment for VVA. INTRAROSA is made from prasterone, a synthetic form of a substance your body produces naturally called DHEA. DHEA is important because after menopause it becomes your body's primary source of sex hormones, but as you age, DHEA decreases.
Like DHEA, INTRAROSA is inactive until your body converts it into sex hormones, specifically androgens and estrogens, which remain within normal postmenopausal ranges.2
Non-Hormonal Advanced Treatment
An advanced technology called the MonaLisa Touch® is a new laser therapy for the vagina and vulvar. There are no medications, not cutting and no lengthy healing times with this procedure. It's similar to having a Pap smear test done. The laser does not hurt or cause any pain. You will only feel tiny vibrating sensations from the machine, and the best part is that the entire procedure is accomplished in an outpatient, office setting.
The laser assists with the bodies cell renewal and regenerates the mucous membrane and help with the restoration of collagen and renewing the proper trophic balance to the membrane. MonaLisa Touch® is a functional vaginal rejuvenation treatment based on a unique fractional CO2 laser. This device was created specifically for the vaginal mucosa and is presently the most effective procedure for preventing and treating vaginal atrophy and its painful conditions.
Now it's possible to have relief from vaginal and vulvar atrophy due to the MonaLisa Touch's® ability to gently improve the tissue of the vaginal mucosa. The laser stimulates the production of collagen, improving the functionality of the treated area and restoring the proper trophic balance to the mucous membrane.
Rejuvenate Your Sex Life
You and your partner will both benefit from this procedure, as intercourse will be pain-free and pleasurable once again. Mona Lisa Touch allows restoration, healing, and a renewed enjoyment of each other. You'll be amazed at how effective this procedure gets you back to where you once were in your relationship.
Parveen Vahora, M.D.
A Board Certified, fellowship trained laparoscopic gynecological surgeon, Dr. Vahora owns a private practice in Trinity, Florida. In addition to being the only practitioner in the area to offer the MonaLisa Touch® Laser, Dr. Vahora performed the first single¬-site robotic hysterectomy in North Pinellas County. She is highly trained in minimally invasive procedures for conditions such as pelvic pain and is able to conduct sophisticated genetic testing.
Don't just live with your sexual discomfort, get the relief and new beginning that you are worthy of. Call today to schedule an appointment and/or your Mona Lisa Touch consultation at (727) 376-1536.
PARVEEN S. VAHORA, MD, FACOG
727-376-1536
Info@ParveenVahoraMD.com
www.ParveenVahoraMD.com
9332 State Road 54 Suite 403, Trinity, FL 34655